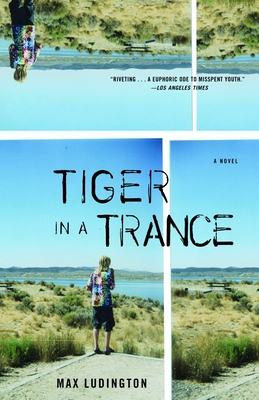 Tiger in a Trance (Paperback)
A Novel
Anchor, 9781400030637, 400pp.
Publication Date: October 12, 2004
Other Editions of This Title:
Hardcover (8/19/2003)
* Individual store prices may vary.
Description
Max Ludington has created a stunningly self-assured American road novel that captures the drug induced euphoria and paranoia of a Grateful Dead concert, while simultaneously probing the self-destructive tendencies of its head-strong protagonist.

Traveling around the country in his old Volvo following the Dead for over a year, eighteen-year-old Jason Burke discovers how much more lucrative selling acid is than selling T-shirts. Liberally dabbling in his product, his judgment gets cloudier and he starts snorting heroin and sleeping with his supplier's girlfriend, a green-eyed beauty named Jane. Jason also meets Melanie, a rebellious one-armed high-school girl who's youthful abandonment leads her deeper into the nomadic world of the Dead. And as his addiction takes hold, Jason reacquaints himself with an old friend of his late father's who's near the end of his days. While he struggles with the ghosts of his own past and his exceedingly tenuous future, Jason has to decide where his heart lies and which road will ultimately take him there.
About the Author
Max Ludington's fiction has appeared in such publications as Tin House, Nerve, and Meridian. He received his M.F.A. from Columbia University and now lives in New York. Tiger in a Trance is his first novel.
Praise For Tiger in a Trance: A Novel…
"Riveting. . . . A euphoric ode to misspent youth." –Los Angeles Times

"Youthful, reckless, and just plain fun. . . . As compelling and contradictory as the band itself." –San Francisco Chronicle

"The latest incarnation of an American character passed down from Walt Whitman to Jack Kerouac: the soulful rebel with an enormous appetite for life." –New York Times Book Review

"[An] excellent debut novel. . . . Tiger in a Trance is a crisply told and consuming coming-of-age tale. . . . This is a book worth reading whether you've seen the band at Red Rocks or not. Four stars." –Rolling Stone

"Smart and lyrical. . . . Ludington gives us an introspective, Deadhead's eye-view of how the band helped its followers tap into the deeper yearnings of American culture." –Raleigh News and Observer

"Lucid and powerful . . . Tiger in a Trance seems destined to be a kind of classic. No one has gotten closer to the beauty and loneliness of the drug culture, where everything, finally, is about coming down." –New York Magazine

"[A] startlingly good debut. . . . Few writers have managed more clearheaded descriptions of getting high–or coming down. . . . Marvel at Ludington's ferocious command of character and Americana. Grade: A." –Entertainment Weekly

"A gripping and astonishing On-the Road first novel that in both subject and execution can be compared to the best of both Kerouac and Kesey." –George Plimpton

"[A] great accomplishment . . . engrossing reading. . . . Ludington has given us an update of On the Road." –Boston Herald

"The Grateful Dead have been the backdrop of many novels, but Tiger in a Trance is the first one to portray the lives of the Deadheads themselves. The dialogue is fantastic–sharp, economical, and authentic. . . . Excellent." –Jim Carroll, author of The Basketball Diaries

"[An] entertaining first novel." –New York Times

"[Ludington writes] with deft, economical prose and [has] a wonderful ear for dialogue that would make Hemingway proud." –Chico News and Reviews

"Echoes of Kesey, Kerouac, and Alex Garland waft like pot smoke through this first novel." –Men's Journal

"Max Ludington is an obviously accomplished and promising writer. His style is graceful, his characters are alive, and he can tell a story. As a generational novel, Tiger in a Trance reminded me of The Sun Also Rises." –Philip Caputo, author of Horn of Africa and A Rumor of War

"[Ludington] manages to capture the darker underbelly of the world of the Deadhead. . . . At first romanticiz[ing] the open road, the thrill turns ugly and the novel starts to read more like William Burroughs than Jack Kerouac. It's a good trip." –Hartford Advocate
or
Not Currently Available for Direct Purchase