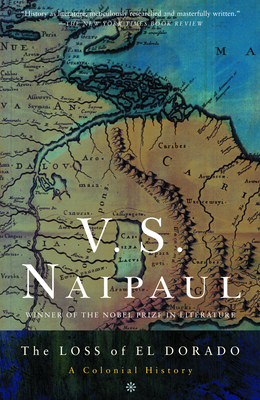 The Loss of El Dorado (Paperback)
A Colonial History
Vintage, 9781400030767, 400pp.
Publication Date: April 8, 2003
* Individual store prices may vary.
Description
The history of Trinidad begins with a delusion: the belief that somewhere nearby on the South American mainland lay El Dorado, the mythical kingdom of gold. In this extraordinary and often gripping book, V. S. Naipaul–himself a native of Trinidad–shows how that delusion drew a small island into the vortex of world events, making it the object of Spanish and English colonial designs and a mecca for treasure-seekers, slave-traders, and revolutionaries.

Amid massacres and poisonings, plunder and multinational intrigue, two themes emerge: the grinding down of the Aborigines during the long rivalries of the El Dorado quest and, two hundred years later, the man-made horror of slavery. An accumulation of casual, awful detail takes us as close as we can get to day-to-day life in the slave colony, where, in spite of various titles of nobility, only an opportunistic, near-lawless community exists, always fearful of slave suicide or poison, of African sorcery and revolt. Naipaul tells this labyrinthine story with assurance, withering irony, and lively sympathy. The result is historical writing at its highest level.
About the Author
V.S. Naipaul was born in Trinidad in 1932. He came to England on a scholarship in 1950. He spent four years at University College, Oxford, and began to write, in London, in 1954. He pursued no other profession.
 
His novels include A House for Mr Biswas, The Mimic Men, Guerrillas, A Bend in the River, and The Enigma of Arrival. In 1971 he was awarded the Booker Prize for In a Free State. His works of nonfiction, equally acclaimed, include Among the Believers, Beyond Belief, The Masque of Africa, and a trio of books about India: An Area of Darkness, India: A Wounded Civilization and India: A Million Mutinies Now.
 
In 1990, V.S. Naipaul received a knighthood for services to literature; in 1993, he was the first recipient of the David Cohen British Literature Prize. He received the Nobel Prize in Literature in 2001. He lived with his wife Nadira and cat Augustus in Wiltshire, and died in 2018.
Praise For The Loss of El Dorado: A Colonial History…
"History as literature, meticulously researched and masterfully written." –The New York Times Book Review

"A formidable achievement. . . . No historian has attempted to weave together in so subtle a manner the threads of the most complex and turbulent period of Caribbean history." –The Times Literary Supplement

"Brilliant. . . . Startling." –New Statesman

"A remarkable book. . . . Intelligent, humane, brilliantly written." –Book World