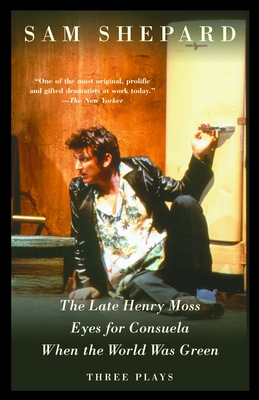 The Late Henry Moss, Eyes for Consuela, When the World Was Green: Three Plays (Paperback)
Three Plays
Vintage, 9781400030798, 240pp.
Publication Date: November 12, 2002
Description
These three plays by Pulitzer Prize winner Sam Shepard are bold, explosive, and ultimately redemptive dramas propelled by family secrets and illuminated by a searching intelligence.
In The Late Henry Moss-which premiered in San Francisco, starring Sean Penn and Nick Nolte-two estranged brothers confront the past as they piece together the drunken fishing expedition that preceded their father's death. In Eyes for Consuela, based on Octavio Paz's classic story "The Blue Bouquet," a vacationing American encounters a knife-toting Mexican bandit on a gruesome quest. And in When the World Was Green, cowritten with Joseph Chaikin, a journalist in search of her father interviews an old man who resolved a generations-old vendetta by murdering the wrong man. Together, these plays form a powerful trio from an enduring force in American theater.
About the Author
Sam Shepard was the Pulitzer Prize-winning author of more than fifty-five plays and three story collections. As an actor, he appeared in more than sixty films, and received an Oscar nomination in 1984 for The Right Stuff. He was a finalist for the W. H. Smith Literary Award for his story collection Great Dream of Heaven. In 2012 he was awarded an honorary doctorate from Trinity College, Dublin. He was a member of the American Academy of Arts and Letters, received the Gold Medal for Drama from the Academy, and was inducted into the Theater Hall of Fame. He died in 2017.
Praise For The Late Henry Moss, Eyes for Consuela, When the World Was Green: Three Plays…
"One of the most original, prolific and gifted dramatists at work today." –The New Yorker

"A journey through classic Shepard country that is at once familiar and heartbreakingly new." –San Francisco Chronicle

"Shepard has many imitators, but no one to match his cunning psychological expressionism and comedic ruthlessness." –The Village Voice

"Shepard's work is a kind of verbal and visual jazz, which surprises you with its penetrating leaps of association and its startling voices." –John Lahr, The New Yorker
Advertisement