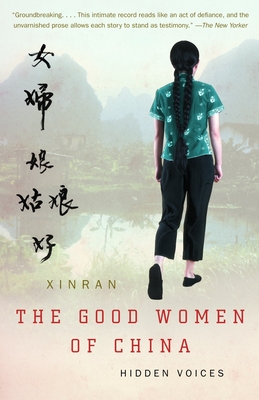 The Good Women of China: Hidden Voices (Paperback)
Hidden Voices
Anchor Books, 9781400030804, 243pp.
Publication Date: November 11, 2003
Description
When Deng Xiaoping's efforts to open up China took root in the late 1980s, Xinran recognized an invaluable opportunity. As an employee for the state radio system, she had long wanted to help improve the lives of Chinese women. But when she was given clearance to host a radio call-in show, she barely anticipated the enthusiasm it would quickly generate. Operating within the constraints imposed by government censors, Words on the Night Breeze sparked a tremendous outpouring, and the hours of tape on her answering machines were soon filled every night. Whether angry or muted, posing questions or simply relating experiences, these anonymous women bore witness to decades of civil strife, and of halting attempts at self-understanding in a painfully restrictive society. In this collection, by turns heartrending and inspiring, Xinran brings us the stories that affected her most, and offers a graphically detailed, altogether unprecedented work of oral history.
About the Author
Xinran was born in Beijing in 1958. In 1997 she moved to London. This is her first book.
Praise For The Good Women of China: Hidden Voices…
"Groundbreaking…. This intimate record reads like an act of defiance, and the unvarnished prose allows each story to stand as testimony." —The New Yorker

"A rare collection of testimonies that show the scale of our humanity, both good and bad, wondrous and horrific." —Amy Tan

"An important document that records with intelligent sympathy lives warped or destroyed by political revolutions." —Kirkus Reviews

"Bursting with details that make each account haunting. These stories have all the force of good fiction." —The Washington Post

"Astonishing."—Glamour

"Remarkable. . . . Rather than educating readers through facts and statistics, the author takes readers into the world of these Chinese women, printing their testimonies, which are beautiful, simple, honest, but sometimes horrific. Collectively, they are a raw and explosive social history." –Rocky Mountain News

"An amazing glimpse into [China's] culture. . .Xinran leaves us wanting to know more about ordinary Chinese women–women like herself." –The Deseret News

"Strangely poetic as well as disturbing. . .Readers familiar with Wild Swans will know about the endless political campaigns and their malign effect on domestic life. . .the author is at her best when talking to women of that era." –The Economist

"The power of [Xinran's] book stems from its simplicity. . . . The often appalling and always moving narratives are based on real scenes. . . . An honest book."–The Sunday Telegraph (UK)

"Moving . . . horrific. . . . Nothing short of heartbreaking. . . . There's no denying The Good Women of China is an important book." –Time Asia

"An enlightening, moving, and sometimes horrifying account." –The Sunday Morning Post (UK)

"Leads the reader on an anguishing journey of discovery and catharsis. What emerges from the tragedies that have lain silent all these years is awe for those women who survived the horrors of their past, grief for those who couldn't, and are-examination of one's own place, identity, and emotional life." –International Examiner
Advertisement