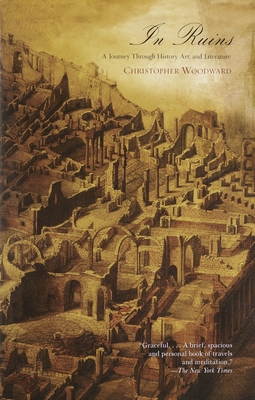 In Ruins: A Journey Through History, Art, and Literature (Paperback)
A Journey Through History, Art, and Literature
Vintage, 9781400030866, 288pp.
Publication Date: October 14, 2003
Description
In this enchanting meditation on ruins, Christopher Woodward takes us on a thousand-year journey from the plains of Troy to the monuments of ancient Rome, from the crumbling palaces of Sicily, Cuba, and Zanzibar to the rubble of the London Blitz. With an exquisite sense of romantic melancholy, we encounter the teenage Byron in the moldering Newstead Abbey, Flaubert watching the buzzards on the pyramids, Henry James in the Colosseum, and Freud at Pompeii. We travel the Appian Way with Dickens and behold the Baths of Caracalla with Shelley. An exhilarating tour, at once elegant and stimulating, In Ruins casts an exalting spell as it explores the bewitching power of architectural remains and their persistent hold on the imagination.
About the Author
Christopher Woodward is the director of the Holburne Museum of Art in Bath, England, where he lives.
Praise For In Ruins: A Journey Through History, Art, and Literature…
"Graceful. . . . A brief, spacious and personal book of travels and meditation." –The New York Times

"A grand tour. . . . Eclectic, learned." –The New York Times Book Review

"Freshly provocative. . . . Meticulously well-observed and well-traveled. . . . A steady stream of ebullient erudition [and] an outpouring of melancholy grandeur." –Los Angeles Times Book Review

"Nothing short of a masterpiece." –Literary Review

"If the painstaking Simon Schama is memory's metaphysician, the late W. G. Sebald . . . is memory's poet and its conscience. . . . Among these giants, Woodward's elegant book has earned him an honored place." –The Atlanta Journal Constitution

"Intriguing. . . . Woodward's enthusiasm for ruins is infectious. . . . . A fascinating tour." –San Francisco Chronicle

"Brilliant, daring and evocative." –The Guardian

"Absorbing. . . . Delightful. . . . Woodward does a terrific job of showing us the variety of ways artifacts have been interpreted and treated over the years. . . . In Woodward, [ruins] have an accomplished and eloquent spokesperson." –The Providence Journal

"A handsomely written, constantly surprising meditation upon ruins . . . and the way they provide consolation in the face of so much human folly." –Daily News (New York)

"An enchanting and informative voyage. . . . Fizzes with felicitous detail, anecdote, literary reference, and art history." –Evening Standard

"Beautifully written. . . . Contains astonishing facts, interesting digressions, alluring illustrations and tantalizing references. . . . An entertaining, even an endearing work." –Winston-Salem Journal

"Fetching. . . . Whimsical. . . . Woodward's enthusiasms are catching." –The New York Observer

"A thought-provoking grand tour of familiar–and lesser-known–stops along the . . . archaeological trail." –Archaeology

"Nothing less than a guided tour of the world's most celebrated ruins as well as a short history of the human intellect as it has contemplated these ruins." –The Tennessean

"Rich, allusive, learned, delightful. . . . Not a breath of pretension emanates from this engaging, illuminating volume." –Kirkus Reviews, starred review

"Masterful. . . . Well-illustrated. . . . Constantly entertaining." –The Times (Trenton, NJ)

"A thoughtful book. . . . After reading it, no building will seem safe from time's depredations." –Conde Nast Traveller
Advertisement