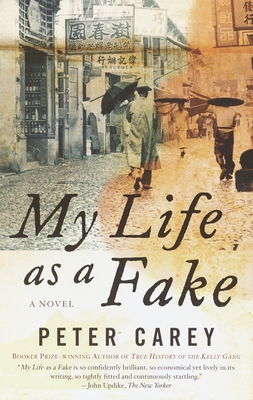 My Life as a Fake (Paperback)
Vintage Books USA, 9781400030880, 265pp.
Publication Date: January 4, 2005
Description
Fiendishly devious and addictively readable, Peter Carey's My Life as a Fake is a moral labyrinth constructed around the uneasy relationship between literature and lying. In steamy, fetid Kuala Lumpur in 1972, Sarah Wode-Douglass, the editor of a London poetry journal, meets a mysterious Australian named Christopher Chubb. Chubb is a despised literary hoaxer, carting around a manuscript likely filled with deceit. But in this dubious manuscript Sarah recognizes a work of real genius. But whose genius? As Sarah tries to secure the manuscript, Chubb draws her into a fantastic story of imposture, murder, kidnapping, and exile-a story that couldn't be true unless its teller were mad. My Life as a Fake is Carey at his most audacious and entertaining.
About the Author
Peter Carey received the Booker Prize for Oscar and Lucinda, and again for True History of the Kelly Gang. His other honors include the Commonwealth Prize and the Miles Franklin Award. The author of seven previous novels and a collection of stories, he was born in Australia in 1943 and now lives in New York City.
Praise For My Life as a Fake…
"My Life as a Fake is so confidently brilliant, so economical yet lively in its writing, so tightly fitted and continuously startling." –John Updike, The New Yorker

"Ingenious . . . Carey is as diabolical as the hoaxes that his book includes." — The New York Times

"Brisk, relentlessly prankish. . . . A virtuoso amalgam of styles, simultaneously a literary conundrum of the Borges variety, an exotic adventure tale evocative of both the settings and the narrative methods of Conrad, and a horror story derived from Mary Shelley's Frankenstein." –The New York Times Book Review

"A wholly absorbing, bizarrely madcap comedy and a telling commentary on the sometimes baffling sources of art. . . . Though fiction, the book is anything but fake. It's truth, beauty and comedy wrapped in one sprightly package." –Chicago Tribune

"We have a great novelist living on the planet with us, and his name is Peter Carey."
–Los Angeles Times Book Review

"Circling from the real to the imaginary and back is as happily perplexing as a drawing by M.C. Escher. . . . Carey can bring a character to life, give him a voice and a history and a psychological topography, in a single paragraph." –The New York Review of Books

"No other Australian writer in our time has succeeded as well as Peter Carey in writing novels that compel the attention of a world-wide audience. His work . . . occupies a high plane of literary brilliance." –The Boston Globe

"Peter Carey's new novel comes like a monsoon after drought. It is a magnificent, poetic contemplation of the lying, fakery and insincerity inherent in the act of artistic creation. . . . It's a charismatically furious piece of work, brilliantly meshing its ethical and artistic debate with a rich human drama." –The Times (UK)

"Reads like the impossible offspring of a fictional ménage-à-trois involving Pale Fire, Lord Jim, and Our Man in Havana. . . . A fabulous book in the original sense of the term--and in the other one, too." –The Atlantic Monthly
 
"In book after book, Peter Carey has proven that he's incapable of writing a dull page. . . . He's one of the greatest storytellers alive. . . . A dazzling narrative." –The Christian Science Monitor

"Fast, furious and fantastical. . . . Carey is Australia's finest living novelist." –The Guardian

"Carey is that rare artist brave enough to flee success, a tactic that underlies his dazzling track record. Each of his novels sets him a different challenge; in each, he excels. A triumph in its own right, My Life as a Fake leaves us wondering how he's going to delight and disconcert us in his next book." –St. Louis Post-Dispatch

"My Life as a Fake is the real thing." –Time

"Complex and masterful. . . . A haunting story whose surreal events are as captivating and memorable as the misguided aspirations of its characters." –Minneapolis Star-Tribune

"In My Life as a Fake, Peter Carey has created a novel that is captivating and haunting, and, in the end, sinfully delightful. For both longtime readers and those coming to his work for the first time, it's a book not to miss." –Richmond Times-Dispatch

"Great rollicking fun. . . . A dazzling, beautifully detailed, intellectually energetic book." –The News & Observer (Raleigh)

"My Life as a Fake dazzles the reader with heady ideas and literary reference points (à la Frankenstein and Pale Fire), then catapults us into madcap action. . . . [Carey] exudes a hallucinatory realism that makes imaginary universes feel concrete and believable." –The Village Voice

"A devilishly engrossing meditation on illusion. . . . My Life as a Fake [is] an ingenious homage to the power of the imagination and to Carey's ability to create–and connect–worlds within worlds." –The Atlanta Journal-Constitution
Advertisement