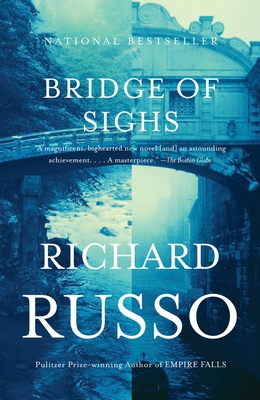 Bridge of Sighs (Paperback)
A Novel (Vintage Contemporaries)
Vintage, 9781400030903, 656pp.
Publication Date: August 12, 2008
Other Editions of This Title:
Digital Audiobook (9/24/2007)
Compact Disc (9/25/2007)
Hardcover (9/25/2007)
Paperback (7/1/2007)
Pre-Recorded Audio Player (9/25/2007)
* Individual store prices may vary.
Description
This moving novel follows Louis Charles Lynch ("Lucy") as he and his wife of forty years are about to embark on a vacation to Italy. 

Lucy is sixty years old and has spent his entire life in Thomaston, New York. Like his late, beloved father, Lucy is an optimist, though he's had plenty of reasons not to be—chief among them his mother, still indomitably alive. Yet it was her shrewdness, combined with that Lynch optimism, that had propelled them years ago to the right side of the tracks and created an "empire" of convenience stores about to be passed on to the next generation.

Lucy's oldest friend, once a rival for his wife's affection, leads a life in Venice far removed from Thomaston. In fact, the exact nature of their friendship is one of the many mysteries Lucy hopes to untangle in the "history" he's writing of his hometown and family. And with his story interspersed with that of Noonan, the native son who'd fled so long ago, the destinies building up around both of them (and Sarah, too) are relentless, constantly surprising, and utterly revealing.

Bridge of Sighs, from the beloved Pulitzer Prize-winning author of Empire Falls, is a moving novel about small-town America that expands Russo's widely heralded achievement in ways both familiar and astonishing.
About the Author
Richard Russo is the author of eight novels; two collections of stories; and Elsewhere, a memoir. In 2002 he received the Pulitzer Prize for Empire Falls, which like Nobody's Fool was adapted to film, in a multiple-award-winning HBO miniseries.
Praise For Bridge of Sighs: A Novel (Vintage Contemporaries)…
"A magnificent, bighearted new novel [and] an astounding achievement. . . . A masterpiece." —The Boston Globe"A story of constantly evolving complexity and depth. . . . [Bridge of Sighs is] Russo's most intricate, multifaceted novel . . . enormous and enormously moving."—The Washington Post Book World"A novel of great warmth, charm and intimacy . . . richly evocative and beautifully wrought."—The New York Times"[Russo's] most ambitious and best work."—USA Today
Bridge of Sighs alternates two narratives: Lucy's first-person memoir and the story of Robert Noonan. What are the advantages of this structure? How does it affect the way plot unfolds? Does it influence your impressions of the main characters?
How does Lucy's description of Thomaston create an immediate sense of time and place? What details did you find particularly evocative? What does Lucy's tone, as well as the way he presents various facts about Thomaston and its history, reveal about his perceptiveness and his intelligence?
Lucy says, "I've always known that there's more going on inside me than finds its way into the world, but this is probably true of everyone. Who doesn't regret that he isn't more fully understood?".To what extent does this feeling lie at the heart of his decision to write his book? Does it play a central role in memoir-writing in general? What else does Lucy hope to accomplish by recalling his past? At the beginning, does he see the dangers, as well as the benefits, of examining his life and the people and events that shaped him?
The horrific prank the neighborhood boys play on Lucy triggers the first of many "spells" he will have throughout his life. What is the significance of his spells? What do they reveal about the emotional attachments, anxieties, and doubts that define him both as a child and as an adult?
Lucy makes many references to the pursuit of the American Dream and its implications within his own family and in society in general. In what ways did American attitudes in the postwar years embody both the best parts of our national character and its darker undercurrents? What incidents in the novel illuminate the uneasiness and enmity that results from the class, racial, and economic divisions in Thomaston? Do Lucy's beliefs, judgments, and achievements (as a businessman and as a happily married husband and father) color his reconstruction of these events?
Unlike Lucy's story, Noonan's story is told in the third person. Is the change of voice a literary device, a way of adding variety to the novel, or does it serve another purpose? In what ways does it help to convey the basic difference between Lucy and Noonan and the way they see themselves and their place in the world? Compare the tone and language Russo uses in creating Lucy's voice with the style he uses in his portraits of Noonan. What aspects of Noonan's character and personality come to life in his conversations with his art dealer and his mistress; his reactions to Lucy's missives and to Mr. Berg's class in high school; and, ultimately, his thoughts and behavior on arriving in New York.
Lucy and Bobby attempt to explain why their lives—and Sarah's—have turned out they way they have. Do you agree with Lucy that "To see a life back to front, as everyone begins to do in middle age, is to strip it of its mystery and wrap it in inevitability, drama's enemy"? To what extent does Bobby share this view? Why does Bobby see himself as being in control of his life in a way that neither Sarah nor Lucy is? Is this a result of his background and the circumstances that forced him to prepare himself for a second act? From the evidence in the book, is it accurate to describe Lucy as a passive participant in life, and Bobby as a man who actively responds to events, rather than becoming a pawn—or a victim—of things beyond his control?
Tessa is the practical, steady member of the Lynch family. In what ways does her behavior reflect her own choices, needs, and desires, and in what ways are these determined by the time and place in which she lives? What qualities make her stand out, not only in Lucy's eyes, but also within the community as a whole?
Does Lucy's identification with his father distort his image of his mother and his understanding of her strengths and her weaknesses? Beyond her immediate anger, what drives her to tell Lucy, "I never wanted you to not to love your father. . . . I wanted you to love me. . . . Did it ever occur to you, even once during all those years, that you might have taken my side? That I might have needed a friend?"? Is this a valid criticism, or is Tessa herself responsible, either inadvertently or intentionally, for the differences between Lucy's relationships with each parent?
Sarah comes from an unconventional family, especially in the context of Thomaston. Is her ability to deal with the eccentricities of her parents and the summer/winter living arrangements they established unusual? In what ways does she not only adapt to but also benefit from the very things that set her apart? Is her attraction to the Lynches in part a reaction to her dysfunctional family?
Are Mr. Berg's obsessions—with perpetuating his image as a rebel, with the "great" book he is writing, and with his failed marriage—sympathetically drawn? What is the significance of the fact that he is Jewish? What biases, both good and bad, do the people of Thomaston (including Lucy) have about Jews and what impact does this have on Berg and his reputation within the community?
What role does her mother play in Sarah's sense of self? What are the implications of her views on marriage? Do they influence Sarah's feelings about her own marriage and that of her in-laws? Why is Sarah drawn back to the home she shared with her mother when she faces a crisis in her relationship with Lucy? What does she learn by revisiting the past?
What traits do Tessa and Sarah share? In what ways do their marriages mirror one another? Do you think either—or both—foolishly gave up their own dreams and desires, sacrificing a life of adventure and sexual passion for the love and security of a "good" man? Behind their apparent contentment, are there indications that they regret the choices they made?
The Bridge of Sighs in Venice connects the Doge Palace to an adjacent prison, and, as Lucy relates, "Crossing this bridge, the convicts—at least the ones without money or influence—came to understand that all hope was lost". How does the historical function of the bridge, as well as the myths surrounding it, relate to characters' lives? Why has Russo chosen it as the title of the novel?
Does the ending bring the various threads of the novel to a satisfactory conclusion? What would have happened if Lucy, Sarah, and Noonan had met again after so many years? In what ways are their memories and imaginings a more powerful—and truer—version of reality?
In an interview Russo said, "The future and the past are repeatedly getting mixed up in people's minds. They think that which is gone is going to come back" (Powells.com). Which characters Bridge of Sighs are particularly prone to getting the past and the future mixed up? Do any of the characters fully escape this way of thinking?
Richard Russo has written about small towns throughout his career. What are some similarities between Bridge of Sighs and previous novels like Empire Falls and Nobody's Fool? In what ways does Bridge of Sighs enhance and expand the portrait of America that is so central to Russo's writing?