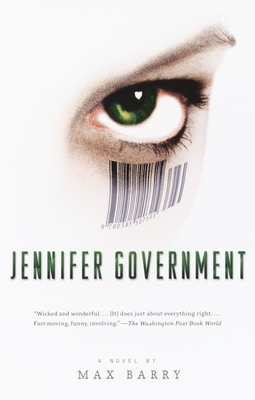 Jennifer Government (Vintage Contemporaries) (Paperback)
Vintage, 9781400030927, 336pp.
Publication Date: January 6, 2004
Other Editions of This Title:
Digital Audiobook (1/20/2003)
Digital Audiobook (10/16/2002)
* Individual store prices may vary.
Description
A wickedly satirical and outrageous thriller about globalization and marketing hype, Jennifer Government is the best novel in the world ever.

"Funny and clever.... A kind of ad-world version of Dr. Strangelove.... [Barry] unleashes enough wit and surprise to make his story a total blast." --The New York Times Book Review

"Wicked and wonderful.... [It] does just about everything right.... Fast-moving, funny, involving." --The Washington Post Book World

Taxation has been abolished, the government has been privatized, and employees take the surname of the company they work for. It's a brave new corporate world, but you don't want to be caught without a platinum credit card--as lowly Merchandising Officer Hack Nike is about to find out. Trapped into building street cred for a new line of $2500 sneakers by shooting customers, Hack attracts the barcode-tattooed eye of the legendary Jennifer Government. A stressed-out single mom, corporate watchdog, and government agent who has to rustle up funding before she's allowed to fight crime, Jennifer Government is holding a closing down sale--and everything must go.
About the Author
Max Barry is an Australian, for which he apologizes. He is the author of the cult hit Syrup, although he spelled his name "Maxx" for that novel, "because it seemed like a funny joke about marketing, and I failed to realize everyone would assume I was a pretentious asshole." He was born on March 18, 1973, and lives in Melbourne, Australia, where he writes full-time, the advantage being that he can do it while wearing boxer shorts.
Praise For Jennifer Government (Vintage Contemporaries)…
"Wicked and wonderful. . . . [It] does just about everything right. Fast-moving, funny and involving."—The Washington Post Book World

"Funny and clever. . . . A kind of ad-world version of Dr. Strangelove. [Barry] unleashes enough wit and surprise to make his story a total blast." —The New York Times Book

"May be the most fun you'll find in a bookstore this year. . . . Full of wit, humor and imagination, Jennifer Government ultimately pulls off its over-the-top conceit."—Time Out New York

"A riotous satirical rant. . . . [Its characters'] excesses . . . make Barry's world of unregulated corporate greed and unrelenting consumerism so frightening and funny."—Entertainment Weekly

"The plot rockets forward on hyperdrive . . . fresh and very clever."—The Boston Globe

"[A] devilish satire that made me laugh out loud."—Dick Adler, The Chicago Tribune