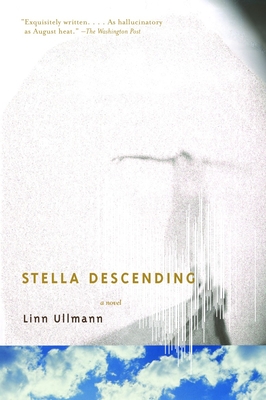 Stella Descending (Paperback)
A Novel
Anchor, 9781400030941, 256pp.
Publication Date: July 13, 2004
* Individual store prices may vary.
Description
Stella descends, over and over, in the course of this haunting novel. She falls from the womb, since her mother gives birth standing up; she falls for Martin, who delivers her new green sofa and refuses to leave; she falls ill and eventually recovers; but her biggest fall, the descent that suffuses her story, is a plunge to her death off a nine-story building. Memories and observations related by Stella's adolescent daughter, her curmudgeonly octogenarian friend, three old ladies who witness her final moments, and finally Stella herself combine in cryptic and beguiling ways to unravel the mystery: Playing a lover's game on that rooftop, did she fall out of her husband's arms, or was she pushed?
About the Author
Born in 1966, Linn Ullmann is a graduate of New York University, where she studied English literature and began her graduate studies before returning to Oslo in 1990 to pursue a career in journalism. She had established herself as a prominent literary critic when her first novel, Before You Sleep, was published in 1998 and became a critically acclaimed best-seller throughout Europe. She writes a column for Norway's leading newspaper and lives in Oslo with her husband, son, two stepchildren, and a dog.
Praise For Stella Descending: A Novel…
"Exquisitely written. . . . As hallucinatory as August heat." –The Washington Post

[Ullman]'s gift is for weaving the banal details of love, career and family with the mystic world of dreams and ghosts into one seamless fabric . . . The hypnotic allure of the story adds to the reader's eagerness to return to Stella and share the enigma of her final flight." –The New York Times Book Review

"Weird and wonderful . . .Ullmann has effortlessly established a distinct literary voice." –Elle

"Magical in its imagery . . . Extraordinary." –The Boston Globe

"Surrealistic . . . in the original 1920s sense: as a work of art that blurs the borders between mundane reality and the reality of fantasies and dreams. . . Where Ullmann differs is in her humor . . . her snappy prose and cheeky attitude." –Los Angeles Times Book Review

"Exquisite. . . . The atmosphere and taut pacing make this an icily swift read, one whose chill lingers longer than a Scandinavian winter." –Entertainment Weekly

"Ullmann has a knack for uncovering rich, off-beat details that lend this disturbing story a breath of black humor." –The Miami Herald

"Quirky . . . compelling. . . . the lyrical introspections of Ullmann's characters make us feel that our failures don't really matter; what counts is that we keep on trying." –St. Petersburg Times

"Haunting, elegiac . . . deft and light enough to work, creating just the right atmosphere of foreboding and regret." —Kirkus Reviews

"Wonderfully strange . . . . Ullmann pairs her native Scandinavian starkness with playful prose . . . to peculiar, pleasing effect. . . . Once one enters Ullmann's hypnotic world, the reward is an emotionally rich and layered story about the elusiveness of truth." —Publishers Weekly
or
Not Currently Available for Direct Purchase