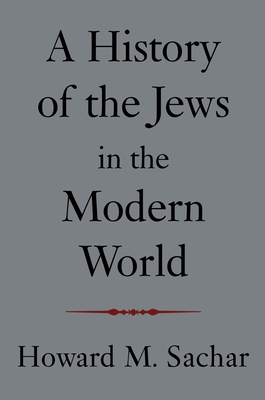 A History of the Jews in the Modern World (Paperback)
Vintage, 9781400030972, 848pp.
Publication Date: September 12, 2006
Other Editions of This Title:
Hardcover (8/9/2005)
* Individual store prices may vary.
Description
The distinguished historian of the Jewish people, Howard M. Sachar, gives us a comprehensive and enthralling chronicle of the achievements and traumas of the Jews over the last four hundred years.

Tracking their fate from Western Europe's age of mercantilism in the seventeenth century to the post-Soviet and post-imperialist Islamic upheavals of the twenty-first century, Sachar applies his renowned narrative skill to the central role of the Jews in many of the most impressive achievements of modern civilization: whether in the rise of economic capitalism or of political socialism; in the discoveries of theoretical physics or applied medicine; in "higher" literary criticism or mass communication and popular entertainment.

As his account unfolds and moves from epoch to epoch, from continent to continent, from Europe to the Americas and the Middle East, Sachar evaluates communities that, until lately, have been underestimated in the perspective of Jewish and world history—among them, Jews of Sephardic provenance, of the Moslem regions, and of Africa. By the same token, Sachar applies a master's hand in describing and deciphering the Jews' unique exposure and functional usefulness to totalitarian movements—fascist, Nazi, and Stalinist. In the process, he shines an unsparing light on the often widely dissimilar behavior of separate European peoples, and on separate Jewish populations, during the Holocaust.

A distillation of the author's lifetime of scholarly research and teaching experience, A History of the Jews in the Modern World provides a source of unsurpassed intellectual richness for university students and educated laypersons alike.
About the Author
Dr. Sachar received his undergraduate education at Swarthmore and took his graduate degrees at Harvard. He has taught Modern European, Jewish, and Middle Eastern history, and lived in the Middle East for six years, two of them on fellowship, the rest as founder-director of Brandeis University's Hiatt Institute in Jerusalem. Dr. Sachar has contributed to many scholarly journals, is the author of numerous books, and the editor of the thirty-ninevolume The Rise of Israel: A Documentary History. He serves as Charles E. Smith Professor of history at George Washington University, is a consultant and lecturer on Middle Eastern affairs for numerous governmental bodies, and lectures widely in the United States and abroad.
Praise For A History of the Jews in the Modern World…
"A rich and balanced account. . . . There is no other book that attempts, as this one does, to recount the history of the Jews in modern times in all its geographical variation and breathtaking disparity." –Washington Post Book World
 
"Magisterial . . . Sachar situates Jews on a global stage. . . . [He] relates an immensely complex story with precision and learning." –New York Times Book Review

"[Sachar's book features] an erudition that is confidently and casually displayed, a range of topics covered with crisp lucidity, and sentences whose cadences effortlessly sweep the reader along." –The Boston Globe

"Like all of Sachar's books, this too is comprehensive, illuminating, and readable. He weaves Jewish history through the intricacies of modern developments with a magisterial sweep." –Shlomo Avineri, Professor of Political Science Emeritus, The Hebrew University

"A magnum opus....comprehensive, analytical, and written in a felicitous style....The book is a must. Both the lay and specialist reader will be richly rewarded." –Isaiah Friedman, Professor of Modern History Emeritus, Ben-Gurion University

"This learned, sweeping, panoramic view of the Jewish experience in modernity will long remain...the standard history of this period." –Alfred Gottschalk, President Emeritus, Hebrew Union College-Jewish Institute of Religion

"In this expansive and magisterial history of the Jews in the modern world...this distinguished historian and experienced teacher has created a vibrant, highly readable text for students and general readers alike." –Jehuda Reinharz, President, Brandeis University

"This is the work of a lifetime, a magisterial study....a book that all future histories of modern Jewry will be judged by." –Jonathan Sarna, Chairman, School of Judaic and Near Eastern Studies, Brandeis University
or
Not Currently Available for Direct Purchase