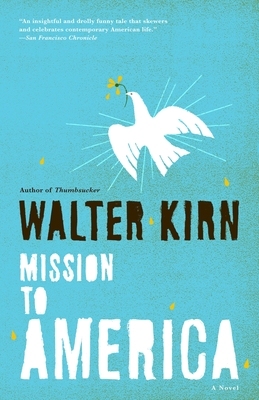 Mission to America
Paperback

* Individual store prices may vary.
Description
Mason LaVerle is a young man on a mission–a mission to save his people's way of life. Mason was raised in a tiny, isolated Montanan sect, the church of the Aboriginal Fulfilled Apostles. But the Apostles face a dwindling membership, so Mason is sent on an outreach operation to bring back converts–specifically brides. As he discovers shopping malls, fast food, and faster women, the forces of faith and the forces of America collide, leading Mason to the brink of missionary madness.
Praise For Mission to America…
"An insightful and drolly funny tale that skewers and celebrates contemporary American life." –San Francisco Chronicle"Mark Twain meets Jonathan Franzen in Mission to America, Walter Kirn's dark, funny road novel." –Maxim"Hilarious. . . . Kirn doesn't miss a chance to skewer consumerism, New Ageism, and ski-town magnates. The barbs are spot-on and the apostles, with their naivet? about everything from Cheetos and Wiccans to reality TV, are hopelessly endearing." –People"Kirn's fourth novel is his most ambitious. . . . A tour de force." –The New York Times Book Review"Thank goodness that Walter Kirn, one of the nation's best satirists, has made a funny, wise little novel. . . . A sly, tender, witty, probing of the nature of religious conviction." –The Plain Dealer
Anchor, 9781400031016, 288pp.
Publication Date: October 10, 2006
About the Author
Walter Kirn is a contributing editor to Time and GQ and a regular reviewer for The New York Times Book Review. His work has appeared in The New York Times Magazine, Vogue, New York, and Esquire. He is the author of four previous works of fiction: My Hard Bargain: Stories, She Needed Me, Thumbsucker, and Up in the Air. He lives in Livingston, Montana.