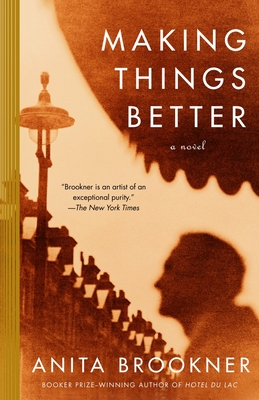 Making Things Better (Paperback)
Vintage, 9781400031061, 288pp.
Publication Date: April 13, 2004
Description
Facing life alone at an advanced age, Julius Herz cannot shake the sense that he should be elsewhere, doing other things. Walking through bustling streets that seem increasingly alien to him, he's confronted by life's pressing questions with an urgency he has never known before: what do we owe the people in our lives? How should we fill our days? Feeling fortified despite the growing ache in his heart, Herz finds himself also blessed with a stirring sense of exhilaration. After a lifetime of deferring to others stronger wills, he faces a future of possibility, the only constraint the deeply ingrained habits of his mind. Profound and deeply resonant, Making Things Better explores the quandaries of aging, longing, and self-discovery with transfixing precision and spellbinding acuity.
About the Author
Anita Brookner was born in London and, apart from several years in Paris, has lived there ever since. She trained as an art historian and taught at the Courtauld Institute of Art until 1988.
Praise For Making Things Better…
"Brookner is an artist of an exceptional purity." —The New York Times

"Brookner has a true gift for plumbing the depths of her characters' psyches." —Los Angeles Times

"Depicted with sharp Austenesque humor that makes Making Things Better stick in your memory long after." –The Boston Herald

"Brookner's artistry holds you in the novel's spell. There is wizardry in her writing." –San Jose Mercury News

Advertisement