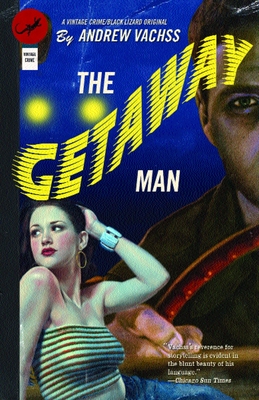 The Getaway Man (Paperback)
Vintage Books USA, 9781400031191, 208pp.
Publication Date: February 4, 2003
Description
Eddie starts stealing cars long before he's old enough to get a license, driven by a force so compelling that he never questions, just obeys. After a series of false starts, interrupted by stays in juvenile institutions and a state prison term, Eddie's skills and loyalty attract the attention of J.C., a near-legendary hijacker. When he gets out, Eddie becomes the driver for J.C.'s ultra-professional crew. J.C., the master planner, is finally ready to pull off that one huge job every con dreams of ... the Retirement Score. But some roads have twists even a professional getaway man couldn't foresee ...

Andrew Vachss, a writer widely acclaimed for breathing new life and death into the crime genre, here presents a classic noir tale, relentlessly displaying and dissecting not guilt, but innocence.
About the Author
Andrew Vachss, an attorney in private practice specializing in juvenile justice and child abuse, is the country s best recognized and most widely sought after spokesperson on crimes against children. He is also a bestselling novelist and short story writer, whose works include Flood (1985), the novel which first introduced Vachss series character Burke, Strega (1987), Choice of Evil (1999), and Dead and Gone (2000). His short stories have appeared in "Esquire," "Playboy," and "The Observer," and he is a contributor to "ABA Journal," "Journal of Psychohistory," "New England Law Review," "The New York Times," and "Parade."

Vachss has worked as a federal investigator in sexually transmitted diseases, a caseworker in New York, and a professional organizer. He was the director of an urban migrants re-entry center in Chicago and another for ex-cons in Boston. After managing a maximum-security prison for violent juvenile offenders, he published his first book, a textbook, about the experience. He was also deeply involved in the relief effort in Biafra, now Nigeria.

For ten years, Vachss law practice combined criminal defense with child protection, until, with the success of his novels, it segued exclusively into the latter, which is his passion. Vachss calls the child protective movement a war, and considers his writing as powerful a weapon as his litigation."
Praise For The Getaway Man…
"Vachss is a contemporary master." —The Atlanta Journal-Constitution

"Vachss has updated the classic noir thriller, and set a new standard. The Getaway Man is taut and understated, inexorable in its deepening moral ambiguity. Eddie, the getaway man is a brilliant achievement, simple but not stupid, as steady on the wheel as Vachss' prose style, Eddie remains an honorable innocent in a world of slowly revealed depravity." —Robert Ferrigno
Advertisement