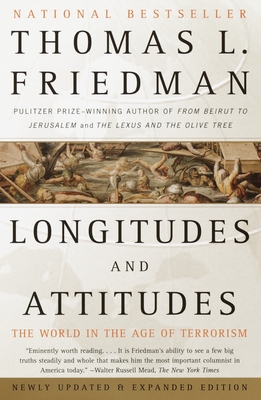 Longitudes and Attitudes (Paperback)
The World in the Age of Terrorism
Anchor, 9781400031252, 416pp.
Publication Date: August 12, 2003
Other Editions of This Title:
Digital Audiobook (2/28/2003)
Hardcover (9/11/2002)
* Individual store prices may vary.
Description
From the Pulitzer Prize–winning New York Times columnist and bestselling author of From Beirut to Jerusalem and The Lexus and the Olive Tree comes this smart, penetrating, brilliantly informed book that is indispensable for understanding today's radically new world and America's complex place in it.

Thomas L. Freidman received his third Pulitzer Prize in 2002 "for his clarity of vision, based on extensive reporting, in commenting on the worldwide impact of the terrorist threat." In Longitudes and Attitudes he gives us all of the columns he has published about the most momentous news story of our time, as well as a diary of his private experiences and reflections during his post–September 11 travels. Updated for this new paperback edition, with over two years' worth of Friedman's columns and an expanded version of his diary, Longitudes and Attitudes is a broadly influential work from our most trusted observer of the international scene.
About the Author
Thomas L. Friedman has won the Pulitzer Prize three times for his work at The New York Times. He is the author of two other bestselling books, From Beirut to Jerusalem, winner of the National Book Award, and The Lexus and the Olive Tree: Understanding Globalization. He lives in Bethesda, Maryland, with his family.
Praise For Longitudes and Attitudes: The World in the Age of Terrorism…
"A writer with the ability to make you think. . . . Few express better the sheer perplexity of Americans today." —The New York Times Book Review

"Eminently worth reading. . . . More than the reporting—often brilliant—and more than the access to insiders, it is [Friedman's] ability to see a few big truths steadily and whole that makes him the most important columnist in America today." —The New York Times

"For historical context, both before and after September 11, I can't think of a more useful and informative book." —Susan Larson, The Times-Picayune

"A valuable work. . . . Few writers have a better grasp than Thomas L. Friedman of the dimensions of America's war on terrorism. . . . He is a brilliant reporter [who] has revolutionized foreign-affairs punditry." —The Baltimore Sun

"A writer with the ability to make you think. . . . Few express better the sheer perplexity of Americans today." –The New York Times Book Review

"For historical context, both before and after September 11, I can't think of a more useful and informative book." –Susan Larson, The Times-Picayune

"A valuable work. . . . Few writers have a better grasp than Thomas L. Friedman of the dimensions of America's war on terrorism. . . . He is a brilliant reporter [who] has revolutionized foreign-affairs punditry." –The Baltimore Sun

"Eminently worth reading. . . . It is Friedman's ability to see a few big truths steadily and whole that makes him the most important columnist in America today." –Walter Russell Mead, The New York Times

"Top-notch. . . . Well-researched, original thinking." –USA Today

"Illuminating. . . . Eye-opening." –The Houston Chronicle

"Enormously valuable. . . . Passionate . . . informed." –San Jose Mercury News

"Essential reading for anyone keeping track of world events. . . . Eminently helpful in understanding the great divide yawning between the Western and Arab worlds." –Kirkus Reviews, starred review

"A readable guide to the issues and arguments facing American policymakers." –The Economist

"An invaluable reporter's perspective on the world from outside U.S. borders. . . . Lucid . . . exceptionally frank and convincing . . . insightful." –Publishers Weekly, starred review

"Fascinating reading. . . . Shockingly clear and prescient. . . . Probably no one else–journalist or diplomat–has pursued the complex threads of this story as relentlessly as Friedman." –BookPage

"When the world changed last September, it was Friedman, more than any other journalist, who was there to explain what happened and why. . . . To read [Longitudes and Attitudes] is to relive an anguishing year in world history but also to witness a more human-size drama: Through these dispatches, you see a man trying to explain the unthinkable not only to his readers but to himself." –Rolling Stone

"Insightful . . . a good example of why he won [three Pulitzer Prizes]. . . . Reading Friedman at any time is a delight." –Wisconsin State Journal