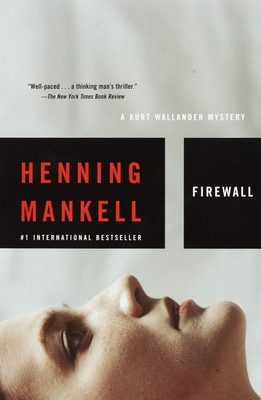 Firewall (Paperback)
Vintage Crime/Black Lizard, 9781400031535, 416pp.
Publication Date: September 9, 2003
Description
From the dean of Scandinavian noir, the seventh riveting installment in the internationally bestselling and universally acclaimed Kurt Wallander series, the basis for the PBS series staring Kenneth Branagh. A body is found at an ATM the apparent victim of heart attack. Then two teenage girls are arrested for the brutal murder of a cab driver. The girls confess to the crime showing no remorse whatsoever. Two open and shut cases. At first these two incidents seem to have nothing in common, but as Wallander delves deeper into the mystery of why the girls murdered the cab driver he begins to unravel a plot much more involved complicated than he initially suspected. The two cases become one and lead to conspiracy that stretches to encompass a world larger than the borders of Sweden.
About the Author
Henning Mankell is the internatinally acclaimed, bestselling author of the Kurt Wallander novels. Mankell's novels have been translated into forty-five languages and have sold more than forty million copies worldwide. He was the first winner of the Ripper Award and also received the Glass Key and the Crime Writers' Association Golden Dagger, among other awards. His Kurt Wallander mysteries have been adapted into a PBS television series starring Kenneth Branagh. During his life, Mankell divided his time between Sweden and Mozambique, where he was artistic director of the Teatro Avenida in Maputo. He died in 2015.
Praise For Firewall…
"Well-paced...a thinking man's thriller." --The New York Times Book Review

"Satisfying…. [Mankell's] Sweden, cold, isolated and brimming with disappointment--is as intriguing a landscape as Raymond Chandler's Los Angeles or Charles Willeford's Miami." --The Wall Street Journal

"Wonderful! Police procedural with personal texture." --Associated Press

Advertisement