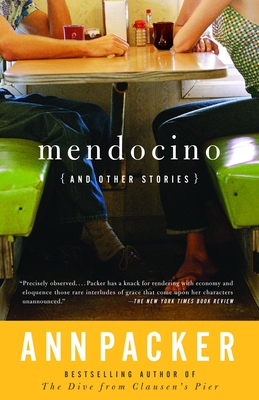 Mendocino and Other Stories (Vintage Contemporaries) (Paperback)
Vintage, 9781400031634, 256pp.
Publication Date: January 14, 2003
* Individual store prices may vary.
Description
With humor, wisdom and tenderness, Ann Packer offers ten short stories about women and men--wives and husbands, sisters and brothers, daughters, sons, mothers, fathers, friends, and lovers--who discover that life's greatest surprises may be found in that which is most familiar.

In the title story, on the anniversary of their father's suicide a young woman discovers that her brother may have found a "reason for living" in the love of a good woman.  In "Nerves," a young man realizes that the wife he is separated from no longer loves him but that it is his own life he misses, not her.  The narrator of "My Mother's Yellow Dress" is a gay man remembering his deceased mother and their vital and troubling intimacy.  In "Babies"--which was included in the prestigious O. Henry anthology series --a single woman in her mid-thirties finds that everyone, including her best friend at work, is pregnant, and that their joy can only be observed, not shared.  In these and six other stories, Ann Packer exhibits an unerring eye for the small ways in which people reveal themselves and for the moments in which lives may be transformed.
About the Author
Ann Packer received the Great Lakes Book Award for The Dive from Clausen's Pier, which was a national bestseller. She is also the author of Mendocino and Other Stories. She is a past recipient of a James Michener award and a National Endowment for the Arts fellowship. Her fiction has appeared in The New Yorker, Ploughshares, and other magazines, as well as in Prize Stories 1992: The O. Henry Awards. She lives in northern California with her family.
Praise For Mendocino and Other Stories (Vintage Contemporaries)…
"Precisely observed…. Packer has a knack for rendering with economy and eloquence those rare interludes of grace that come upon her characters unannounced." --The New York Times Book Review

"Well crafted….Packer's real strength is her slightly skewed vision and sharp eye for detail that reveal the cracks and fissures in the most ordinary of lives, loves and losses." --The Washington Post Book World

"Her writing is graceful and effortless, yet as controlled and purposeful as a nest-building bird." --San Francisco Chronicle

"Gracefull written and instantly captivating. . . . Packer . . . finds a compassionate balance between her characters folly and fortitude."--The Plain Dealer

"Consistently engaging. . . . Packer [has an] uncanny ability to hold back until the perfect moment and tehn reveal the deepest heart of her characters." -- Los Angeles Times Book Review