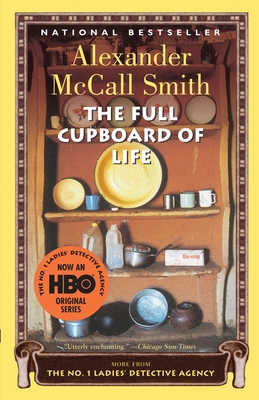 The Full Cupboard of Life (No. 1 Ladies' Detective Agency Series #5) (Paperback)
Anchor, 9781400031818, 224pp.
Publication Date: January 25, 2005
Other Editions of This Title:
Hardcover (4/20/2004)
Compact Disc (2/24/2004)
Hardcover, Large Print, Large Print (4/1/2004)
Audio Cassette (4/1/2004)
Prebound (1/25/2005)
Paperback, Large Print, Large Print (12/23/2008)
* Individual store prices may vary.
Description
THE NO. 1 LADIES' DETECTIVE AGENCY - Book 5

Fans around the world adore the best-selling No. 1 Ladies' Detective Agency series and its proprietor, Precious Ramotswe, Botswana's premier lady detective. In this charming series, Mma  Ramotswe—with help from her loyal associate, Grace Makutsi—navigates her cases and her personal life with wisdom, good humor, and the occasional cup of tea.
 
Still engaged to the estimable Mr J.L.B. Matekoni, Mma Ramotswe understands that she should not put too much pressure on him, as he has other concerns, especially a hair-raising request from the ever persuasive Mma Potokwane, matron of the orphan farm. Besides Mma Ramotswe herself has weighty matters on her mind. She has been approached by a wealthy lady to check up on several suitors. Are these men interested in the lady or just her money? This may be a difficult case, but it's just the kind of problem Mma Ramotswe likes and she is, as we know, a very intuitive lady.
About the Author
Alexander McCall Smith is the author of the huge international phenomenon, The No. 1 Ladies Detective Agency, and The Sunday Philosophy Club series. He is a professor of medical law at Edinburgh University. He was born in what is now known as Zimbabwe and he was a law professor at the University of Botswana. He lives in Scotland.
Praise For The Full Cupboard of Life (No. 1 Ladies' Detective Agency Series #5)…
"Utterly enchanting." -- Chicago Sun-Times

"Beguiling. . . . The author's deceptively simple prose . . . is as supple as ever. His gift for effortless description of dusty, sun-baked Africa is undiminished." —The Seattle Times

"Smith's big-hearted Botswana stories...[allow] his readers to escape into a world of simple, picturesque pleasures and upstanding virtues." --The New York Times Book Review

"Brims with the same old-fashioned charm as its lovely predecessors.... An engaging read." --Entertainment Weekly

"The Full Cupboard of Life is a treasure of wit and wisdom. Read it and you will find yourself very much like Botswanans on happy occasions: ululating with pleasure." —Dallas Morning News

"Delightful. . . . The warm humanity . . . is what brings readers back. . . . There is a simplicity and lyricism in [the] language that brings out the profound importance of . . . everyday revelations." --San Francisco Chronicle

"Enthralling. . . . [Mma Ramotswe] is someone readers can't help but love. . . . A well-told story." --USA Today

"The greatest mystery in this witty and charming book is whether Mma Ramotswe will succeed in getting her fiance to name a date for their long-anticipated wedding. It's hard to conceive of any reader not being just as eager to find out as she is." --The Wall Street Journal

"Soothing. . . . Full of authentic African touches. New readers can start here . . . and enjoy a plot even more inventive than the earlier ones." --People

"[McCall Smith's] accomplished novels . . . [are] dependent on small gestures redolent with meaning and main characters blessed with pleasing personalities. . . . Not so much conventional mysteries, these novels are gentle probes into the mysteries of human nature." --Newsday

"[The] prose is gentle, easing the reader through Ramotswe's world of crimes of virtue and social misdemeanors." --Time

"Beguiling. . . . The author's deceptively simple prose . . . is as supple as ever. His gift for effortless description of dusty, sun-baked Africa is undiminished." --The Seattle Times

"Today, when most books about Africa describe hardship, Alexander McCall Smith brings us further glimpses of Mma Precious Ramotswe and her friends that refresh our souls. . . . . We become caught up in the lives of these gentle Botswanans. We share a mug of bush tea with them, and sit together under the shade of a jacaranda." --The Christian Science-Monitor

"Witty, elegant, compassionate and exotic. . . . [McCall Smith is] a treasure of a writer whose books deserve immediate devouring." --The Guardian (London)

"Delightful. . . . Up to the high standard established with the first book and each succeeding one. . . . The relentless warmth, generosity, cheerfulness, and simple wisdom of the heroine are guaranteed to charm you." --The New York Sun

"The Full Cupboard of Life delivers . . . the perfect journey to a faraway place. . . . Mma Ramotswe, her able assistant Mma Makutsi and her fianc?, Mr. J. L. B. Matekoni, are brilliant creations. . . . McCall Smith's unique voice, with its African rhythms, elegant, formal turns of phrase and subtle humor . . . is remarkable." --Toronto Globe and Mail

"Warm, witty and filled with cultural aphorisms, a good-hearted book. . . . It is, all told, a book about the rich stock of experiences that make a full life, and the human vagaries involved in living." --Houston Chronicle

"What makes the stories so charming is their vivid sense of place." --W ?magazine

"The Full Cupboard of Life is a treasure of wit and wisdom. Read it and you will find yourself very much like Botswanans on happy occasions: ululating with pleasure." --Dallas Morning News

"An act of divine ventriloquism. . . . [Smith] give[s] voice to the life and work, sorrows and joys, of the only lady detective in Gaborone, Botswana. . . . There is deep wisdom [here]." --The New Orleans Times-Picayune

"A reassuring book, calm, good-humored . . . strong on winsome charm. . . . McCall Smith's writing . . . harks back to a more tranquil age, where gentle ironies and strict proprieties prevail. . . . The pleasure of the novel lies in its simplicity." --The Independent (London)

"Addictive. . . . Our reviewer was so entertained, she bought the rest of the series!" --Marie Claire

"The No. 1 Ladies' Detective Agency series by Alexander McCall Smith could put the entire self-help shelf out of business. His sturdy heroine, Precious Ramotswe, exudes a simple wisdom so engaging that it is difficult to put down the books about her. . . . After getting to know these characters so well, it would be difficult not to love them." --The Harford Courant

"Wonderful. . . . Richly drawn characters. . . . A vivid portrait of life in Botswana." --The Buffalo News

"Breezy and entertaining. . . . [McCall Smith] paints the books' unlikely setting . . . with rainbow colors, providing a stark contrast to the continent's oft-bleak portraits." --Wisconsin State Journal

"[Even] more satisfying and uplifting that its predecessors. . . . The dramas of daily life are described in an elegantly understated prose that is full of small delights. . . . Gentle humor blends pleasingly with good African common sense. . . . In the good land that is Botswana, the cupboard of life is indeed overflowing with goodness." --Winston-Salem Journal