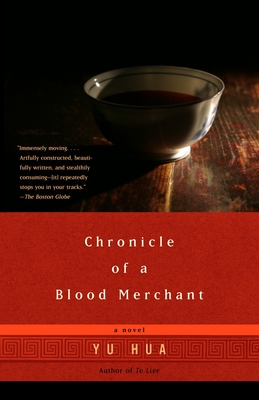 Chronicle of a Blood Merchant
Paperback

* Individual store prices may vary.
Description
From the acclaimed author of Brothers and China in Ten Words: here is Yu Hua's unflinching portrait of life under Chairman Mao. A cart-pusher in a silk mill, Xu Sanguan augments his meager salary with regular visits to the local blood chief. His visits become lethally frequent as he struggles to provide for his wife and three sons at the height of the Cultural Revolution. Shattered to discover that his favorite son was actually born of a liaison between his wife and a neighbor, he suffers his greatest indignity, while his wife is publicly scorned as a prostitute. Although the poverty and betrayals of Mao's regime have drained him, Xu Sanguan ultimately finds strength in the blood ties of his family. With rare emotional intensity, grippingly raw descriptions of place and time, and clear-eyed compassion, Yu Hua gives us a stunning tapestry of human life in the grave particulars of one man's days.
Praise For Chronicle of a Blood Merchant…
"Immensely moving. . . . Artfully constructed, beautifully written, and stealthily consuming–[it] repeatedly stops you in your tracks." –The Boston Globe

"A rare achievement in literature. . . . [Xu Sanguan is] a character that reflects not just a generation but the soul of a people." –The Seattle Times

"Epic . . . offer[s] unforgettable images of cruelty and kindness." –The Washington Post Book World

"Stringently honest. . . . Eerily prescient. . . . Leavened by a touch of Chekhovian compassion." –Time Asia

"Vital and electric. . . . Shows the persistence of human sensibility in the face of totalitarian logic." –Slate


"A wrenching and blackly humorous tale. Long after I closed the book, the character Xu Sanguan has remained stubbornly impressed upon my heart." –Dai Sijie, author of Balzac and the Little Chinese Seamstress

"Popular literature at its best. . . . Touching. . . . Realistic and awash with humanistic values. . . . It's its own best advertisement, as well as a depiction of the absurdist nightmare that was China 50 years ago." –Taipei Times

"A mesmerizing book, one that captures the chaos and fragility of life during modern China's most turbulent years. Yu Hua's characters bring to life the history, culture, traditions, and superstitions of Mao's China within a story that is well-plotted, poignant, and dramatic. This examination of a Chinese family's will to survive will leave readers filled with inspiration." –Terrence Cheng, author of Sons of Heaven

"Chronicle of a Blood Merchant takes us straight to the heartland of China–the towns, streets, courtyards, kitchens, and bedrooms where ordinary Chinese live. They may not be great warriors or politicians, but their courageous efforts in living a life with hope and dignity make them true heroes. This book is a gem." –Wang Ping, author of Aching for Beauty and Foreign Devil

"Sophisticated and ambiguous." –Asian Review of Books

"Yu Hua captures the simplicities and complexities of Chinese family life over many tumultuous decades. With great love coated in black humor, Yu Hua shows the great goodness and kindness that a father can draw upon even in the face of multiple hardships and the sometimes terrible depths that he will go to save his family." –Lisa See, author of On Gold Mountain

"A major contemporary novelist, Yu Hua writes with a cold eye but a warm heart. His novels are ingeniously structured and exude a mythical aura. Though unmistakably Chinese, they are universally resonant." –Ha Jin, author of Waiting
Anchor, 9781400031856, 272pp.
Publication Date: November 9, 2004
About the Author
YU HUA is the author of five novels, six story collections, and four essay collections. He has also contributed op-ed pieces to The New York Times. His work has been translated into more than forty languages. He is the recipient of many awards, including the James Joyce Award, France's Prix Courrier International, and Italy's Premio Grinzane Cavour. He lives in Beijing.
or
Not Currently Available for Direct Purchase