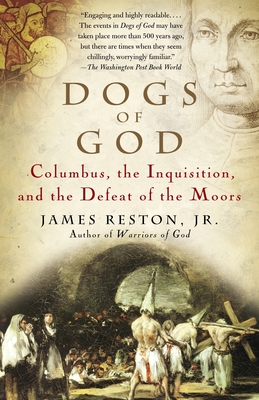 Dogs of God (Paperback)
Columbus, the Inquisition, and the Defeat of the Moors
Anchor, 9781400031917, 400pp.
Publication Date: October 10, 2006
* Individual store prices may vary.
Description
From the acclaimed author of Warriors of God comes a riveting account of the pivotal events of 1492, when towering political ambitions, horrific religious excesses, and a drive toward international conquest changed the world forever.James Reston, Jr., brings to life the epic story of Spain's effort to consolidate its own burgeoning power by throwing off the yoke of the Vatican. By waging war on the remaining Moors in Granada and unleashing the Inquisitor Torquemada on Spain's Jewish and converso population, King Ferdinand and Queen Isabella attained enough power and wealth to fund Columbus' expedition to America and to chart a Spanish destiny separate from that of Italy. With rich characterizations of the central players, this engrossing narrative captures all the political and religious ferment of this crucial moment on the eve of the discovery of the New World.
About the Author
James Reston, Jr., is the author of thirteen books, including Warriors of God, The Last Apocalypse, and Galileo: A Life. He has written articles for The New Yorker, Esquire, Vanity Fair, Time, Rolling Stone, and many other publications; three plays; and the scripts for three Frontline documentaries. He lives in Chevy Chase, Maryland.
Praise For Dogs of God: Columbus, the Inquisition, and the Defeat of the Moors…
"Engaging and highly readable. . . . The events in Dogs of God may have taken place more than 500 years ago, but there are times when they seem chillingly, worryingly familiar."–The Washington Post Book World"Thrilling, even cinematic. . . . Presents one relevant and ominous object lesson in showing a domino effect at work, the process by which one aggressive initiative led to another until people of God behaved like satanic beasts in God's name."–The Washington Times"Engaging, richly detailed and well-researched. . . . An important book."–The Albany Times-Union"Energetic... Reston brings alive the conflict between Catholic and Muslim and how the outcome still resonates today."–USA Today