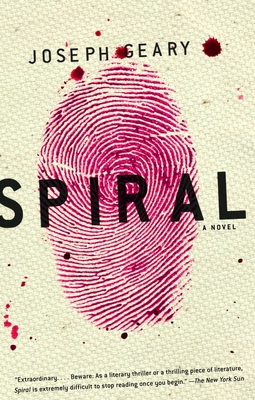 Spiral (Paperback)
Vintage Crime/Black Lizard, 9781400031924, 368pp.
Publication Date: July 13, 2004
* Individual store prices may vary.
or
Not Currently Available for Direct Purchase
Description
Nicholas Greer is a writer who's broke and on the verge of divorce. The life of Frank Spira, the controversial painter he's been researching for six years, has become more real to him than his own. Nick has just finished writing his book when he gets a call telling him that one of Spira's closest friends, Jacob Grossman, a man who went missing twenty-six years ago, has been spotted in Manhattan.
Nick tracks Grossman down, hoping to find answers to the few niggling questions that remain. Instead he gets news of a work created by Spira, which the artist supposedly destroyed. If it existed, it would be worth millions. When Grossman is brutally murdered an hour after the interview, Nick finds himself drawn into a search for explanations. Only as he comes to understand the disturbing truth behind the lost painting, does he realize that he too is the object of someone's scrutiny, a ruthless art collector for whom the missing work is Spira's crowning achievement. Moving between London, New York, and Tangier, Spiral is a relentlessly suspenseful story of art and obsession.
About the Author
Joseph Geary graduated from Oxford University. He lives with his wife and son, and divides his time between Los Angeles and the south of France.
Praise For Spiral…
"Extraordinary. . . . Beware: As a literary thriller or a thrilling piece of literature, Spiral is extremely difficult to stop reading once you begin." —The New York Sun

"The twists and turns are exemplary, and the gradual unveiling of the truth behind Spiral's lost painting flirts with new degrees of dread. . . . A chilling study of obsession. This is one to savor slowly."--The Guardian (London)

"Geary is proficient at capturing both the gory details of a homicide scene and the bloodless backstabbing of a scholarly conversation. . . . The breakneck plot . . . twists, turns, and zig-zags like an abstract rendering of the Brooklyn-Queens Expressway at rush hour." —Newsday

"Brisk, absorbing. . . . Geary has a keen eye for the art world's petty jealousies. . . . An engaging read." --Radar

"Geary accomplishes the difficult task of writing a murder-thriller that manages to entertain within the bounds of plausibility without ever plodding." —Forbes.com
Advertisement