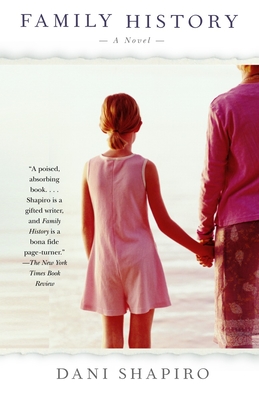 Family History
A Novel
Paperback

* Individual store prices may vary.
Description
From the prodigiously gifted author of the acclaimed memoir Slow Motion, a stunning and brutally honest novel about one family's harrowing recovery from devastation.

Rachel Jensen is perfectly happy: in love with her husband, devoted to their daughter Kate, gratified by her work restoring art. And finally, she's pregnant again. But as Rachel discovers, perfection can unravel in an instant. The summer she is thirteen, Kate returns from camp sullen, angry, and withdrawn. Everyone assures Rachel it's typical adolescent angst. But then Kate has a terrifying accident with her infant brother, and the ensuing guilt brings forth a dreadful lie—one that ruptures their family, perhaps irrevocably. Family History is a mesmerizing journey through the mysteries of adolescent pain and family crisis.
Praise For Family History: A Novel…
"A poised, absorbing book. . . . Shapiro is a gifted writer, and Family History is a bona fide page turner." –The New York Times Book Review

"One of those books most readers will finish in one sitting . . . because it is so intense you can't take a break. In gripping, moving prose, Shapiro reminds us of any family's essential fragility, but also of the tenacious strength of love." —Detroit Free Press

"Shapiro writes wonderfully. . . . Her portrayal of a mother and wife struggling to accept the limits of her love and custody will resonate with anyone who has wished they could protect someone, and failed." —Chicago Tribune

"Real heart-in-your-throat scariness . . . the characters are so real and the situations so emotional that they leave the reader almost dizzy." —San Francisco Chronicle

"Shapiro is an abundantly emotional writer with a deep understanding of life's banal blessings." —Los Angeles Times

"Shapiro's small observations of motherhood are keen and astute; they demand empathy. . . . Realistic and heartbreaking." –The San Diego Union —Tribune

"A brutal firecracker of a novel that chronicles the dissolution of a cinematically perfect New England Family." –Newsday

"Shapiro has both a best-selling writer's instinct for plot and pacing and a fine literary sensibility. . . . A powerful, penetrating illumination of the hidden agendas and consequences of family relationships." –Elle

"A gripping, contemporary story of guilt, love and redemption." –Rocky Mountain News

"Keeps us flipping pages late into the night. Through seamless writing and a good plot, Shapiro manages to impart to us Rachel's frenetic desire to understand the past." –The Oregonian

"Riveting." –Harper's Bazaar

"Shapiro displays a sharp eye for the tiny epiphanies of everyday life, the quiet contentments we all have taken for granted." –The Charlotte Observer

"Dani Shapiro has the gift. That a book as harrowing as Family History can be such a page-turner is testimony to the primal power of storytelling and the saving grace of art." –David Gates

"Absorbing . . . elegantly written, wry and unsettling." –NPR's Fresh Air

"A gripping account of a contemporary Massachusetts family of four unraveling as problems with the eldest daughter start to rip the delicate fabric of love and partnership." –Seattle Post-Intelligencer

"From the first page to the last, Family History is virtually impossible to put down: a beautifully structured, tightly woven exploration of the mysteries of adolescent pain, and the brutal efficiency with which a crisis can engulf a family and transform it into something unrecognizable." –Jennifer Egan

"Start reading Dani Shapiro's Family History and you'll be wishing you didn't have to put it down for anything. Let the kids wait for their ride home from school; let the phone ring; cancel the doctor's appointment you waited six weeks for. This writer has a story to tell." –Calgary Herald

"Dani Shapiro's new novel strikes at the heart of every mother who has ever worried that she has failed her child . . . readers will fly through this book. A contemporary domestic drama . . . a quick powerful read." –Chattanooga Times Free Press

"Book covers often tout that readers won't be able to put it down. In the case of Dani Shapiro's compelling Family History, no one would accuse the publisher of false advertising." –Buffalo News

"Graceful." –Glamour

"Shapiro's suspenseful novel movingly explores the fragility of family life . . . the overall effect is to create a web that lures readers in, curious to find out who is guilty of what and whether the ending will be happy." –People

"Family History isn't a book you have to work to get into. Shapiro hooks you on page one." –The Missourian

"Spare, compelling, and heartbreakingly authentic . . . Shapiro has fashioned a deeply moving, beautifully crafted story. Once begun it is impossible to put down." –Denton Record-Chronicle

Anchor, 9781400032112, 288pp.
Publication Date: August 10, 2004
About the Author
Dani Shapiro is the author of three acclaimed novels, Playing with Fire, Fugitive Blue, and Picturing the Wreck, and the best-selling memoir Slow Motion. She teaches in the graduate writing program at The New School, and has written for The New Yorker, Granta, Elle, and Ploughshares, among other magazines. She lives with her husband and son in Litchfield County, Connecticut. Her Web site is www.danishapiro.com.
or
Not Currently Available for Direct Purchase