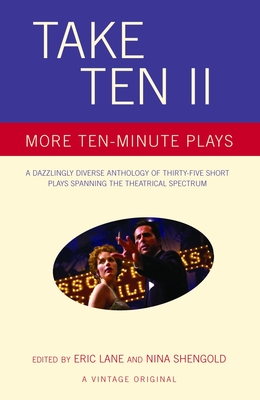 Take Ten II: More Ten-Minute Plays (Paperback)
More Ten-Minute Plays
Vintage Books USA, 9781400032174, 417pp.
Publication Date: November 11, 2003
Description
A dazzlingly diverse anthology of thirty-five short plays spanning the theatrical spectrum.
A ten-minute play is a blaze of theatrical energy. In this follow-up to their groundbreaking collection Take Ten, editors Eric Lane and Nina Shengold have put together a veritable bonfire of talent. Take Ten II: More 10-Minute Plays provides a fast-track tour of the current theatrical landscape, from the slapstick ingenuity of David Ives' Arabian Nights to the searing tension of Diana Son's 9/11 drama The Moon, Please, to Susan Miller's luminous fable The Grand Design. This remarkably diverse anthology includes thirty-five short plays by such major American playwrights as Christopher Durang, Warren Leight, Romulus Linney and Donald Margulies, alongside a host of exciting new voices.
Actors, directors, producers and teachers will find Take Ten II an invaluable source of meaty roles for people of every age, ethnicity and gender; lovers of theatre will find it a richly satisfying read. These deceptively short plays throb with life in all its variety: harrowing, hilarious, and breathtakingly vital.
Playwrights included:
Taylor Mac Bowyer
Laura Shaine Cunningham
Anthony David
Steven Dietz
Christopher Durang
Linda Eisenstein
Simon Fill
Craig Fols
Sigrid Heath
David Ives
Caleen Sinnette Jennings
Honour Kane
Eric Lane
Edward Bok Lee
Warren Leight
Romulus Linney
Donald Margulies
Susan Miller
Chiori Miyagawa
Itamar Moses
Sean O'Connor
Mark O'Donnell
Dael Orlandersmith
Rich Orloff
Joe Pintauro
Craig Pospisil
Toni Press-Coffman
Claire Reeve
Elaine Romero
Susan Sandler
Nina Shengold
Diana Son
Alison Weiss
Mary Louise Wilson
Garth Wingfield
Alexander Woo.
About the Author
Eric Lane and Nina Shengold have been editing contemporary theater anthologies for more than twenty years. Eric Lane's award-winning plays have been published and performed in the United States, Canada, Europe, and China. Plays include Ride, Times of War, Heart of the City, Dancing on Checkers' Grave, and Filming O'Keeffe. Floating, a PlayPenn finalist, was workshopped at Raven Theatre. Eric's short plays are published in Best American Short Plays, Poems and Plays, and the Foreign Language Press (Beijing). He wrote and produced the short films First Breath and Cater-Waiter, which he also directed; both films screened in more than forty cities worldwide. For TV's Ryan's Hope he received a Writers Guild Award. Honors include the Berrilla Kerr Playwriting Award, the La MaMa Playwright Award, and fellowships at Yaddo, VCCA, and St. James Cavalier in Malta. Eric is an honors graduate of Brown University, and artistic director of Orange Thoughts, a not-for-profit theater and film company in New York City. Nina Shengold's plays include Finger Foods, War at Home, Homesteaders, and Romeo/Juliet, and have been produced around the world. Her one-act No Shoulder was filmed by director Suzi Yoonessi, with Melissa Leo and Samantha Sloyan. Nina won a Writers Guild Award for her teleplay Labor of Love, starring Marcia Gay Harden; other teleplays include Blind Spot, with Joanne Woodward and Laura Linney, and Unwed Father. Her books include the novel Clearcut; River of Words: Portraits of Hudson Valley Writers (with photographer Jennifer May), and a growing posse of pseudonymous books for young readers. A graduate of Wesleyan, she is currently teaching creative writing at Manhattanville College. Nina lives in New York's Hudson Valley, where she has been books editor of Chronogram magazine since 2004.
Advertisement