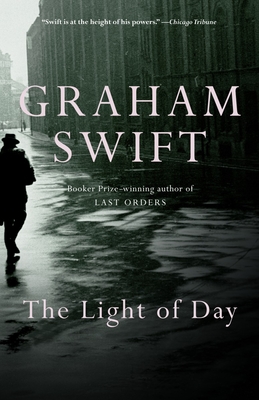 The Light of Day (Paperback)
Vintage, 9781400032211, 336pp.
Publication Date: August 10, 2004
* Individual store prices may vary.
or
Not Currently Available for Direct Purchase
Description
On the anniversary of a life-shattering event, George Webb, a former policeman turned private detective, revisits the catastrophes of his past and reaffirms the extraordinary direction of his future. Two years before, an assignment to follow a strayed husband and his mistress appeared simple enough, but this routine job left George a transformed man. Suspenseful, moving, and hailed by critics as a detective story unlike any other, The Light of Day is a gripping tale of murder and redemption, as well as a bold exploration of love and self-discovery. This powerful novel signals yet another groundbreaking achievement from Graham Swift, the author of the Booker Prize-winning novel Last Orders.
About the Author
Graham Swift was born in 1949 in London, where he still lives and works. He is the author of six novels: The Sweet-Shop Owner; Shuttlecock, which received the Geoffrey Faber Memorial Prize; Waterland, which was short-listed for the Booker Prize and won the Guardian Fiction Award, the Winifred Holtby Memorial Prize and the Italian Premio Grinzane Cavour; Out of This World; Ever After, which won the French Prix du Meilleur Livre Etranger; and Last Orders, which was awarded the Booker Prize. He is also the author of Learning to Swim, a collection of short stories. His work has been translated into more than twenty-five languages.
Praise For The Light of Day…
"Swift is at the height of his powers. In this quite dazzling meditation, Swift makes the reader believe anew in the power of love."—Chicago Tribune

"An intense meditation on love and murder. . . . Graham Swift distills emotion and incident into a hypnotic elixir. He is simply one of the most sure-handed, savvy and remarkable writers now at work." –The Washington Post Book World

"A virtuosic display of narrative skill. . . . [And] a love story of peculiar poignancy and power." –The Philadelphia Inquirer

"Revelatory. . .Swift paints a potent tale of suspense, sex, betrayal and redmption. A poignant meditation on the give and take of love."—Seattle Times

"Meticulously crafted, deftly moving back and forth in time to build suspense."—The New York Times

"Takes the conventions of the mystery thriller and turns them inside out." –Chicago Sun-Times

"A masterful, first-person narrative about love's sudden revelations and its retributions. . . . Swift delivers another remarkable piece of fiction–one that sticks with you and gnaws on the soul." –St. Louis Post-Dispatch

"Exquisite . . . Swift is not about to let go until our vision is blurry from lack of oxygen. The fierceness of this chokehold is what makes Swift such an exhilarating writer, such an essential one." –Milwaukee Journal Sentinel

"Swift's hypnotic, elliptical style neatly showcases his characters' psychological depths, yielding a noir-ish stunner shot through with a brutal clarity." –Vanity Fair

"Intricate . . . Swift is a virtuoso of narrative ventriloquism; he inhabits his characters through their voices. Swift manages this patterning of motives with exquisite economy." –The New York Times Book Review

"Affirms the shifting nature of human connections, and uses the mundane details of a single day to explore the broad scopes of love and passion, venality and benevolence." –The Los Angeles Times

"Mysterious . . . seductive . . . [filled with] moments of understated metaphorical brilliance." –The Boston Globe

"It is Swift's sheer, unstoppable--and at times unfathomable--affection for his characters, his tender feelings towards their everydayness, their ordinariness . . . that makes one follow their stories." --New York Review of Books

"Luminous . . . This taught thriller gradually becomes a fine-tuned investigation of how even our simplest, most personal choices can spiral uncontrollably outward." –People

"Filled with intelligent meditations." --The New Yorker

"A heartbreaking story about loving too much, not loving enough, and the hope of redemption from loveless acts. Swift is to be lauded for a fine psychological tale that, with sensitivity and heart, examines the textures of loyalty and love." –Rocky Mountain News

"Moving . . . Swift is a master of the mordant line. . . . [He] describes [each episode] with characteristic empathy and a deep, persuasive tact." --Newsday

"The plot and shifts in time are masterfully juggled, with lots of interesting asides. . . . Great sentences and memorable characters make it a good, fast read." –The Capital Times (Wisconsin)

"Mr. Swift's revision of a genre is ingenious." --The New York Sun

"Graham Swift is one of a trio of World-class British writers . . . (Martin Amis and Ian McEwan are the others) who are bringing a fierce new energy and edge to the contemporary novel. [Swift is] a superb stylist, a master of suggestive compression. The Light of Day is at once perfectly balanced and eerily incisive." –Book Magazine (4 stars)

"Draws the reader on like the best whodunnit. A profoundly artful, beautifully weighted, resonant and humane literary novel." --Daily Telegraph

"Graham Swift's genius is for putting the strangest of lies into the most provincial of English landscapes. . . . The Light of Day has a brilliantly slow, precise, careful structure [but] the story it has to tell is wildly extreme, sensational and romantic." --Guardian

"A writer of penetrating insight and formidable talent. A beautifully constructed book, which flows musically. The pace is gentle but brilliantly sustained, its association of ideas intricate but achieved with a magically delicate touch. . . . Deserves to be inhaled, greedily, in a single sitting." --Independent on Sunday

"Swift brilliantly explores one man's attempt to reshape his own destiny. The understated simplicity of Swift's writing is artistry of a higher order, seamless prose that leads the reader on a compelling journey of suspense and compassion." --Mail on Sunday

"Swift has the ability to cast a spell over a story, magically illuminating the small details of human interaction and the outside world. The tension is effortlessly sustained. Full of wonderful moments. . . . Does anyone a power of good to read prose of such sensitivity." --Sunday Express
Advertisement