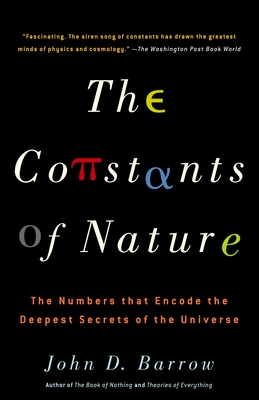 The Constants of Nature: The Numbers That Encode the Deepest Secrets of the Universe (Paperback)
The Numbers That Encode the Deepest Secrets of the Universe
Vintage, 9781400032259, 368pp.
Publication Date: March 9, 2004
Description
Reality as we know it is bound by a set of constants--numbers and values that dictate the strengths of forces like gravity, the speed of light, and the masses of elementary particles. In The Constants of Nature, Cambridge Professor and bestselling author John D.Barrow takes us on an exploration of these governing principles. Drawing on physicists such as Einstein and Planck, Barrow illustrates with stunning clarity our dependence on the steadfastness of these principles. But he also suggests that the basic forces may have been radically different during the universe's infancy, and suggests that they may continue a deeply hidden evolution. Perhaps most tantalizingly, Barrow theorizes about the realities that might one day be found in a universe with different parameters than our own.
About the Author
John D. Barrow is professor of mathematical sciences at the University of Cambridge. His previous books include The Book of Nothing, Theories of Everything, The Artful Universe, Between Inner Space and Outer Space, The Universe That Discovered Itself, and The Origin of the Universe. He lives in England.
Praise For The Constants of Nature: The Numbers That Encode the Deepest Secrets of the Universe…
"Fascinating. The siren song of constants has drawn the greatest minds of physics and cosmology." –The Washington Post Book World

"Barrow's familiarity with the material allows him to glide from Pascal to Pasadena in smooth, informative paragraphs." –Economist

"Barrow is a fantastic storyteller. The book is full of wonderful moments, vignettes that you will want to remember." –The Guardian

"Barrow's appeal lies in a winning way with historical anecdote and apt quotation and a forceful eloquence, when it comes to the most mind-boggling thoughts, that irresistibly sweeps you along." –Daily Telegraph (London)
Advertisement