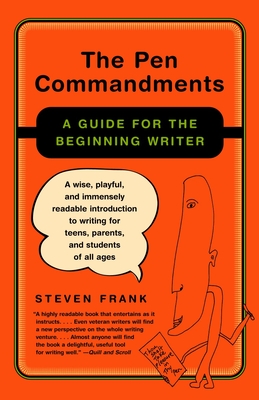 The Pen Commandments (Paperback)
A Guide for the Beginning Writer
Anchor, 9781400032297, 336pp.
Publication Date: September 14, 2004
* Individual store prices may vary.
Description
   Steven Frank has a new approach to writing: fun first, rules to follow, success for all. In The Pen Commandments, his offbeat and entertaining guide, he's given us a book that all writers can turn to for help and a good laugh.

   With outrageous anecdotes (how a kid's oral surgery led to the ultimate writing assignment) and irreverent advice (Thou Shalt Not Kill Thy Sentences), Frank shows how to conquer writer's block, make friends with punctuation, and live forever in words.  If you want to inspire your kids of just want to brush up on your own skills, The Pen Commandments will change—and enliven—the way you write forever.
About the Author
Mr. Frank has been a high school English teacher for ten years. He lives in Los Angeles with his wife and two children.
Praise For The Pen Commandments: A Guide for the Beginning Writer…
"A highly readable book that entertains as it instructs... Even veteran writers will find a new perspective on the whole writing venture... Almost anyone will find the book a delightful, useful tool for writing well."- Quill and Scroll

"Steven Frank is the English teacher you wish you'd had in high school. That's because he knows that education and humor make terrific team teachers. If thou wishest to become a better—and more joyful—writer, thou shalt follow The Pen Commandments."
—Richard Lederer, author of A Man of My Words

"Frank's approach is fresh and irreverent... If writers absorb Frank's commandments, they'll reap a worthwhile reward: good writing."- The Advocate

"Helpful... To be read as you write...Frank is generous; he doesn't want anyone to be frightened away from the sport because the don't know the rules."- Los Angeles Times