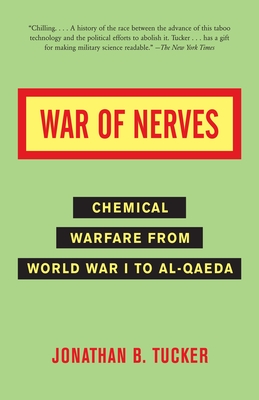 War of Nerves (Paperback)
Chemical Warfare from World War I to Al-Qaeda
Anchor, 9781400032334, 496pp.
Publication Date: February 13, 2007
* Individual store prices may vary.
Description
In this important and revelatory book, Jonathan Tucker, a leading expert on chemical and biological weapons, chronicles the lethal history of chemical warfare from World War I to the present.

At the turn of the twentieth century, the rise of synthetic chemistry made the large-scale use of toxic chemicals on the battlefield both feasible and cheap. Tucker explores the long debate over the military utility and morality of chemical warfare, from the first chlorine gas attack at Ypres in 1915 to Hitler's reluctance to use nerve agents (he believed, incorrectly, that the U.S. could retaliate in kind) to Saddam Hussein's gassing of his own people, and concludes with the emergent threat of chemical terrorism. Moving beyond history to the twenty-first century, War of Nerves makes clear that we are at a crossroads that could lead either to the further spread of these weapons or to their ultimate abolition.
About the Author
Jonathan B. Tucker received a B.S. in biology from Yale University and a Ph.D. in political science, specializing in defense and arms control studies, from the Massachusetts Institute of Technology. For the past ten years, he has been a chemical and biological weapons specialist at the Center for Nonproliferation Studies of the Monterey Institute of International Studies. Dr. Tucker previously worked as an arms control specialist for Congress and the State Department and as an editor at Scientific American and at High Technology magazine, where he wrote about biomedical research, biotechnology, and military technologies. He lives in Washington, D.C.
Praise For War of Nerves: Chemical Warfare from World War I to Al-Qaeda…
"ChillingÉ a history of the race between the advance of this taboo technology and the political efforts to abolish it. TuckerÉhas a gift for making military science readable"—The New York Times"[Tucker] writes clearly and forcefully, making his case not through argument but through the patient accumulation of appalling detailÉAn immensely useful book, presenting a vast trove of vital information in highly readable form."—The San Francisco Chronicle"Compelling Éoffers a comprehensive history of chemical weapons, the most widely used WMD in modern history."—The Washington Post Book World"Outstanding. . .fascinating. . . Everyone who believes weapons of mass destruction exist only in fantasy need but read this book. They are closer than you think."—The Decatur Daily
or
Not Currently Available for Direct Purchase