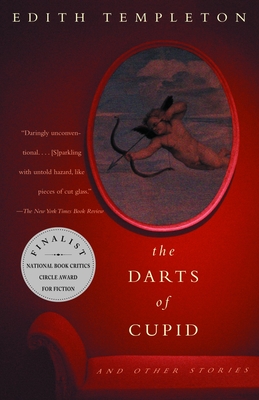 The Darts of Cupid: Stories (Paperback)
Stories
Vintage, 9781400032365, 320pp.
Publication Date: March 11, 2003
* Individual store prices may vary.
or
Not Currently Available for Direct Purchase
Description
When Edith Templeton's stories began appearing in The New Yorker in the late 1950s, she quickly became a favorite of the magazine's discerning readers. Her finely honed writing, honestly drawn heroines, and distinctive themes secured her reputation. The Dart's of Cupid collects seven of Templeton's stories for the first time and reintroduces one of the truly great writers of the twentieth century. In settings ranging from a decrepit Bohemian castle between the wars to London during World War II to the Italian Riviera in the 1990s, the heroines of these stories often find themselves confronting unfathomable passsions and perplexing actions by others, but they seldom feel regret.
About the Author
Edith Templeton was born in Prague in 1916, and spent much of her childhood in a castle in the Bohemian countryside. She was educated at a French lycee in Prague, and left that city in 1938 to marry an Englishman. During her years in Britain, she worked in the Office of the Chief Surgeon for the U.S. Army in Cheltenham, and then became a captain in the British Army, working as a high-level conference interpreter. Her short stories began to appear in The New Yorker in the fifties, and over the next several decades she published a number of novels, as well as a popular travel book, The Surprise of Cremona, in the United Kingdom. Mrs. Templeton left England in 1956 to live in India with her second husband, a celebrated cardiologist. She has since lived in various parts of Europe, and now makes her home in Bordighera, on the coast of Italy.
Praise For The Darts of Cupid: Stories…
"Daringly unconventional. . . . [S]parkling with untold hazard, like pieces of cut glass." —The New York Times Book Review

"In these splendid stories, Edith Templeton, at her cosmopolitan best, rivals our other Edith: she has Mrs. Wharton's cool stare that sees all round her characters while never refusing us the pleasure of an unanticipated surprise." —Gore Vidal

"Love–or desire, and the two are at once distinct and intertwined here–is the ordering principle of these stories, the prism through which the world is seen. . . . [V]ivid and rich." —Newsday

"Templeton's ability to pierce through the deepest reaches of longing, desire, lust and loneliness crosses the gender divide. . . . [Templeton] is one of the great social observers of the twentieth century." —Toronto Star

"In these sensuous, refined . . . stories . . . Templeton . . . never suffers any fool gladly, least of all when that fool happens to be herself." —Vogue

"[B]reathtaking. . . . Templeton is an overlooked treasure of worldly sophistication, psychological insight and dry wit. . . . A brilliant eavesdropper of the Henry James—Edith Wharton school." —Book



Advertisement