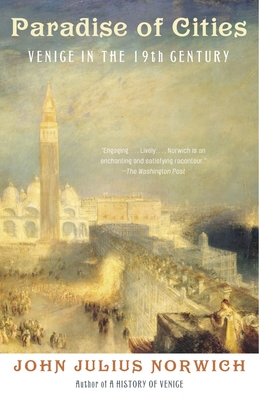 Paradise of Cities: Venice in the Nineteenth Century (Paperback)
Venice in the Nineteenth Century
Vintage, 9781400032372, 400pp.
Publication Date: October 1, 2004
Description
John Julius Norwich's A History of Venice has been dubbed indispensable by none other than Jan Morris. Now, in his second book on the city once known as La Serenissima, Norwich advances the story in this elegant chronicle of a hundred years of Venice's highs and lows, from its ignominious capture by Napoleon in 1797 to the dawn of the 20th century.
An obligatory stop on the Grand Tour for any cultured Englishman (and, later, Americans), Venice limped into the 19th century first under the yoke of France, then as an outpost of the Austrian Hapsburgs, stripped of riches yet indelibly the most ravishing city in Italy. Even when subsumed into a unified Italy in 1866, it remained a magnet for aesthetes of all stripes subject or setting of books by Ruskin and James, a muse to poets and musicians, in its way the most gracious courtesan of all European cities. By refracting images of Venice through the visits of such extravagant (and sometimes debauched) artists as Lord Byron, Richard Wagner, and the inimitable Baron Corvo, Norwich conjures visions of paradise on a lagoon, as enduring as brick and as elusive as the tides.
About the Author
John Julius Norwich is the author of histories of Venice and Byzantium, and of the Norman Kingdom of Sicily. Among his other works are books on architecture, music, and the history plays of Shakespeare, together with an annual anthology, A Christmas Cracker. He has written and presented some thirty historical documentaries for television and is a regular lecturer on a wide range of subjects. He is a former Chairman of the Venice in Peril Fund, Chairman of the World Monuments Fund in Britain, and a former member of the executive committee of the National Trust. He is a Fellow of the Royal Society of the Arts, the Royal Society of Literature, and the Royal Geographical Society, and a Commendatore dell Ordine al Merito della Repubblica Italiana. He lives in London."
Praise For Paradise of Cities: Venice in the Nineteenth Century…
"Engaging. . . . Lively. . . . Norwich is an enchanting and satisfying raconteur." –The Washington Post

"A richly textured, colorfully told saga. . . . Beautifully illustrated, Paradise of Cities contains much that will instruct, divert and delight." –Los Angeles Times

"Personable. . . . Hovers delightfully between history and gossip. . . . Even non-Venetians will feel a tug of nostalgia for the world he describes." –Newsday

"Lively. . . . Norwich . . . is certainly the English language's most passionate and dedicated chronicler of [Venice's] extraordinary history. . . . Paradise of Cities offers delicious new insights [and] open[s] a door to one of the world's most memorable cities." –The Seattle Times

"Suavely presented. . . . Appealing. . . . Full of relishable moments. . . . Paradise of Cities shows a sharp eye for the curious and entertaining. . . . It lights up many facets of expatriate life in the world's most inexhaustibly alluring city." –The Sunday Times (London)

"Illuminating. . . . Norwich is a historian of uncommon urbanity: scholarly and erudite but never pedantic. His style is as graceful and easy as it is knowledgeable." –Los Angeles Times

"Stylish, resonant, indelible . . . an ode to a very splendid and unique city." –Booklist (starred and boxed review)

"Supremely readable and often witty." –The Guardian

"First-rate. . . . Lovely. . . . Engaging. . . . Informed by first rate scholarship and leavened with deep affection. . . . The subject is wonderfully rich, the chronicler gifted and knowledgeable." –Kirkus Reviews (starred review)

"Engaging. . . . Makes intelligent sense out of how Venice evolved from the pleasure capital of 17th- and 18th-century Europe . . . into a 21st-century aesthetic temple." –Financial Times
Advertisement