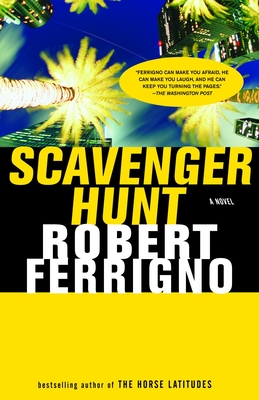 Scavenger Hunt (Paperback)
Vintage, 9781400032549, 336pp.
Publication Date: February 10, 2004
Description
Philip Marlow and Lew Archer would recognize a kindred spirit in Jimmy Gage, reporter for "SLAP" magazine, troublemaker by trade and inclination, and the hero of Robert Ferrigno's sinuous new crime novel. While taking part in a Hollywood scavenger hunt, Jimmy meets Garret Walsh, a bad-boy movie maker in the truest sense: He's just been released from prison after serving seven years for the murder of a teenaged girl. But Walsh claims he was framed and is writing a screenplay to prove it. He wants Jimmy to help him peddle it, sight unseen.
The next time Jimmy sees the director, he's floating face-down in a koi pond and The Most Dangerous Screenplay in Hollywood has disappeared. Is Walsh a casualty of bad habits or has somebody crossed him off a list? And is Jimmy next? Combining nerve-shredding suspense and heat-seeking satire, Scavenger Hunt is an addictive read.
About the Author
Robert Ferrigno is the author of six previous novels, including Flinch, Heartbreaker, and The Horse Latitudes. He lives with his family in the Pacific Northwest. View his website at www.robertferrigno.com.
Praise For Scavenger Hunt…
"Ferrigno can make you afraid, he can make you laugh, and he can keep you turning the pages." –The Washington Post

"Captivating. . . . Momentum that doesn't let up until the last page. . . . Scavenger Hunt boasts a surprising, fast-paced plot and a host of memorable characters." –The Oregonian

"A nicely plotted tour through the dense fringes of Hollywood, with an occasional torque. . . . Ferrigno is a nimble pro. . . . Assured reading pleasure." -–Houston Chronicle

"A brisk trot through SoCal's odd and entertaining landscape, informed by a mix of unpretentious smarts, muscular prose, and darkly funny observation." –Seattle Times
Advertisement