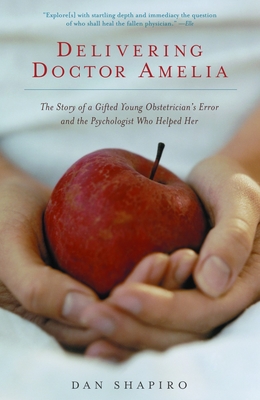 Delivering Doctor Amelia (Paperback)
The Story of a Gifted Young Obstetrician's Error and the Psychologist Who Helped Her
Vintage, 9781400032570, 272pp.
Publication Date: July 13, 2004
* Individual store prices may vary.
Description
"Voices are a soul's signature," says psychologist Dan Shapiro, who in his daily practice hears plenty of them. For all his expertise, he admits he's still terrified that "someone will keep something from me, and when they tell me the truth, I'll be useless."

Treating other physicians has become one of Shapiro's specialties. When the obstetrician Amelia Sorvino seeks his help—distraught that her own medical error could have injured a patient's baby— Shapiro finds his talents as counselor and healer pushed to their limits. Session by session, he works to discover the sources of Amelia's anguish--for his own sake as much as hers: he's familiar with the burden of a doctor's guilt, and he has seen how loss and trauma, if unchecked, can echo from generation to generation in a family. In this probing, intensely personal memoir, the words "Physician, heal thyself" assume a fresh and moving urgency.
About the Author
Dan Shapiro is an assistant professor of clinical psychiatry at the University of Arizona, and the author of Mom's Marijuana. An expert on physician self-care and physician-patient relationships, he has been featured in the New York Times, the Chicago Tribune, Salon, and on ABCNews.com. He lives in Tucson. For more information, visit Dr. Shapiro's website at www.danshapiro.org.
Praise For Delivering Doctor Amelia: The Story of a Gifted Young Obstetrician's Error and the Psychologist Who Helped Her…
"Explores wth startling depth and immediacy the question of who shall heal the fallen physician." –Elle

"A terrific read: deeply touching, keenly analytical and warmly amusing. No reader will come away unaffected. And no reader will fail to gain new understanding of the intricate web of skills and attitudes--mind and heart--that constitute a good doctor." --Milwaukee Journal Sentinel

"Masterful storytelling. . . . Amelia's secret keeps the pages turning. . . . A fly-on-the-wall peek into a doctor-patient relationship. . . . a well-written, suspenseful story." --Austin Chronicle

"Like Oliver Sacks, Shapiro presents this medical case and its professional analysis from a unique perspective that the public seldom shares. His book is highly recommended for its naked revelations of the medical and psychiatric professions and its truths about the human condition, our frailties, and our vulnerabilities." --Library Journal (starred review)

"There are a few gifted doctors and therapists–the neurologist Oliver Sacks comes to mind–who manage to bring the narrative skills of a novelist to their discussions of the disorders that plague the human body and spirit. Dan Shapiro . . . appears to be one of them." –Milwaukee Journal Sentinel 

"Shapiro clearly shines as a gifted physician and an expressive author. His writing ambles competently from page to page, dishing insights in carefully measured, melodic prose. The underlying message is one of human frailty, compassion and a better understanding that we all are somehow responsible for one another." –Rocky Mountain News

"By plying his own hard-won wisdom at having been both terrified patient and uncertain healer, he succeeds not only in 'delivering' Dr. Amelia but also a compassionate and stirring look at the inner lives of medical professionals." –St. Louis Times Dispatch

"Dan Shapiro . . . is a psychologist who specializes in treating troubled physicians. The message is important: Doctors are not omnipotent. As human beings, they sometimes make mistakes and need healing of their own." –Atlanta Journal Constitution

"In a choice reminiscent of Kay Redfield Jamison in An Unquiet Mind, Shapiro writes about his own responses to Dr. Amelia's revelation. . . . Each season, book after book rolls toward the public pregnant with ruin. Here is a rare story about healing that seems earned." –The Plain Dealer

"Honest and perceptive. . . . A very sensitive and engrossing medical memoir." –Publishers Weekly

"[Shapiro] preserves an important message: Doctors are human beings who falter sometimes and must find solace before they resume their lives." –Arizona Republic

"A fascinating view of the interactions between a psychologist and his patient during the therapeutic process. . . . A revealing narrative of self-discovery." –Kirkus Reviews

or
Not Currently Available for Direct Purchase