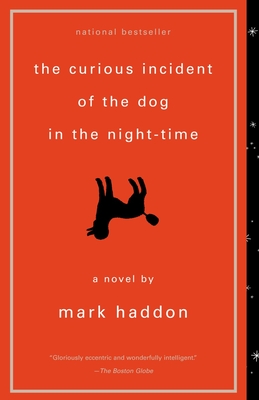 The Curious Incident of the Dog in the Night-Time (Vintage Contemporaries) (Paperback)
Vintage, 9781400032716, 240pp.
Publication Date: May 18, 2004
Other Editions of This Title:
Digital Audiobook (5/11/2004)
Prebound (5/18/2004)
Hardcover (7/31/2003)
Paperback (11/25/2014)
Audio Cassette (5/1/2003)
Paperback, Vietnamese (10/1/2019)
Paperback (4/1/2004)
Prebound (5/18/2004)
Paperback (4/1/2004)
Paperback (8/1/2011)
Paperback (9/1/2008)
Paperback (1/1/2010)
Hardcover (6/24/2003)
* Individual store prices may vary.
Description
A bestselling modern classic—both poignant and funny—about a boy with autism who sets out to solve the murder of a neighbor's dog and discovers unexpected truths about himself and the world.

Nominated as one of America's best-loved novels by PBS's The Great American Read

Christopher John Francis Boone knows all the countries of the world and their capitals and every prime number up to 7,057. He relates well to animals but has no understanding of human emotions. He cannot stand to be touched. And he detests the color yellow.

This improbable story of Christopher's quest to investigate the suspicious death of a neighborhood dog makes for one of the most captivating, unusual, and widely heralded novels in recent years.
About the Author
Mark Haddon is the author of the bestselling novels The Red House and A Spot of Bother. His novel The Curious Incident of the Dog in the Night-Time won the Whitbread Book of the Year Award and the Los Angeles Times Book Prize for First Fiction and is the basis for the Tony Award–winning play. He is the author of a collection of poetry, The Talking Horse and the Sad Girl and the Village Under the Sea, has written and illustrated numerous children's books, and has won awards for both his radio dramas and his television screenplays. He teaches creative writing for the Arvon Foundation and lives in Oxford, England.
Praise For The Curious Incident of the Dog in the Night-Time (Vintage Contemporaries)…
"Gloriously eccentric and wonderfully intelligent." —The Boston Globe

"Moving. . . . Think of The Sound and the Fury crossed with The Catcher in the Rye and one of Oliver Sacks's real-life stories." —Michiko Kakutani, The New York Times

"This is an amazing novel. An amazing book." —The Dallas Morning News

"A superb achievement. He is a wise and bleakly funny writer with rare gifts of empathy." —Ian McEwan, author of Atonement

"Brilliant. . . . Delightful. . . . Very moving, very plausible—and very funny." —Oliver Sacks

"Superb. . . . Bits of wisdom fairly leap off the page." —Newsday

"Disorienting and reorienting the reader to devastating effect. . . . As suspenseful and harrowing as anything in Conan Doyle." —Jay McInerney, The New York Times Book Review

"Extraordinarily moving, often blackly funny. . . . It is hard to think of anyone who would not be moved and delighted by this book." —Financial Times, London

"Both clever and observant." —The Washington Post

"Full of whimsical surprises and tender humor." —People

"[Haddon] illuminates a core of suffering through the narrowly focused insights of a boy who hasn't the words to describe emotional pain." —New York Daily News

"Outstanding. . . . A stunningly good read." —The Independent

"Engrossing . . . flawlessly imagined and deeply affecting." —Time Out New York

"A remarkable book from a writer with very special talent." —Fort Worth Star-Telegram

"The Curious Incident is the rare book that repays reading twice in quick succession." —Detroit Free Press

"Heart-in-the-mouth stuff, terrifying and moving. Haddon is to be congratulated for imagining a new kind of hero." —The Daily Telegraph

"This original and affecting novel is a triumph of empathy." —The New Yorker

"Haddon's book illuminates the way one mind works so precisely, so humanely, that it reads like both an acutely observed case study and an artful exploration of a different 'mystery': the thoughts and feeling we share even with those very different from us." —Entertainment Weekly

"Mark Haddon's portrayal of an emotionally disassociated mind is a superb achievement. He is a wise and bleakly funny writer with rare gifts of empathy." —Ian McEwan, author of Atonement

"A murder mystery, a road atlas, a postmodern canvas of modern sensory overload, a coming-of-age journal and lastly a really affecting look at the grainy inconsistency of parental and romantic love and its failures. . . . In this striking first novel, Mark Haddon is both clever and observant, and the effect is vastly affecting." —The Washington Post

"Haddon's gentle humor reminds us that facts don't add up to a life, that we understand ourselves only through metaphor." —Chicago Tribune

"Beautifully written. . . . Heart-in-the-mouth stuff, terrifying and moving. Haddon is to be congratulated for imagining a new kind of hero, for the humbling instruction this warm and often funny novel offers and for showing that the best lives are lived where difference is cherished." —The Daily Telegraph

"A detective story with a difference. . . . [Haddon] has given his unlikely hero a convincing voice–and the detective novel an interesting twist." —The Economist

"Think Huck Finn, The Catcher in the Rye, or the early chapters of David Copperfield." —Houston Chronicle

"A tale full of cheeky surprises and tender humor. . . . A touching evolution." —Milwaukee Journal Sentinel

"Funny, sad and totally convincing." —Time

"More so than precursors like The Sound and the Fury and Flowers for Algernon, The Curious Incident is a radical experiment in empathy." —The Village Voice

"One of the strangest and most convincing characters in recent fiction." —Slate

"I have never read anything quite like Mark Haddon's funny and agonizingly honest book, or encountered a narrator more vivid and memorable. I advise you to buy two copies; you won't want to lend yours out." —Arthur Golden, author of Memoirs of a Geisha

"At once funny and achingly sad, this thought-provoking debut may leave us wondering if our worn coping skills are really any better than Christopher's." —The News and Observer

"Filled with humor and pain, [The Curious Incident of the Dog in the Night-Time] verges on profundity." —San Jose Mercury News

"The Curious Incident of the Dog in the Night-Time brims with imagination, empathy, and vision–plus it's a lot of fun to read." —Myla Goldberg, author of Bee Season
Coverage from NPR