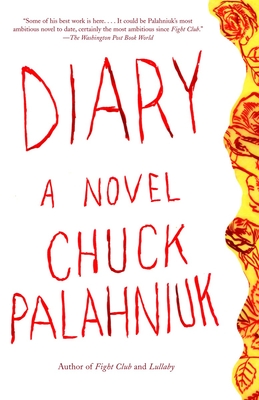 Diary (Paperback)
A Novel
Anchor, 9781400032815, 272pp.
Publication Date: September 14, 2004
Other Editions of This Title:
Digital Audiobook (8/25/2003)
Compact Disc (8/26/2003)
Paperback (9/1/2004)
* Individual store prices may vary.
Description
Misty Wilmot has had it. Once a promising young artist, she's now stuck on an island ruined by tourism, drinking too much and working as a waitress in a hotel. Her husband, a contractor, is in a coma after a suicide attempt, but that doesn't stop his clients from threatening Misty with lawsuits over a series of vile messages they've found on the walls of houses he remodeled.

Suddenly, though, Misty finds her artistic talent returning as she begins a period of compulsive painting. Inspired but confused by this burst of creativity, she soon finds herself a pawn in a larger conspiracy that threatens to cost hundreds of lives. What unfolds is a dark, hilarious story from America's most inventive nihilist, and Palahniuk's most impressive work to date.
About the Author
CHUCK PALAHNIUK is the author of fourteen novels—Beautiful You, Doomed, Damned, Tell-All, Pygmy, Snuff, Rant, Haunted, Diary, Lullaby, Choke, Invisible Monsters, Survivor, and Fight Club—which have sold more than five million copies altogether in the United States. He is also the author of Fugitives and Refugees, published as part of the Crown Journey Series, and the nonfiction collection Stranger Than Fiction. He lives in the Pacific Northwest. Visit him on the web at chuckpalahniuk.net.
Praise For Diary: A Novel…
"Some of his best work is here. . . . When it's on, it's on, and it could be Palahniuk's most ambitious novel to date, certainly the most ambitious since Fight Club." –The Washington Post Book World

"Madly inventive. . . . It simply, exuberantly, escapes literary categorization." —Los Angeles Times

"Palahniuk's pacing is impeccable. . . . He draws from a strange palette of worldly nihilism and supernatural conspiracy to paint a compelling portrait of the artist as an unwitting conduit of evil." --The Boston Globe

"Palahniuk is a bracingly toxic purveyor of dread and mounting horror. He makes nihilism fun." –Vanity Fair

"To read a Chuck Palahniuk novel means being shocked, enlightened, disturbed, buoyed, horrified, delighted and perplexed–sometimes on a single page." —Pittsburgh Tribune Review

"Palahniuk delightfully pushes Diary into the ludicrous, but his restless intelligence coheres plotwise, and as always he makes his ideas move. . . . The pleasure here resides in his awesome ability to transform gleeful absurdities into a well-sculpted riddle." –The Village Voice

"This is a book you won't soon forget." —Hartford Courant

"Diary is far more inspired and philosophical than one would expect even from a top-drawer horror novel." —Seattle Times-Post Intelligencer

"Palahniuk has never sounded more like a latter-day Kurt Vonnegut than he does here . . . Life and art may not be that unfair, on the evidence of watching Palahniuk hitting his stride." --The New York Times

"The closest thing to a plain old mystery Palahniuk has ever written. . . . Stunning, funky stuff." –Entertainment Weekly

"Daring. . . . Palahniuk's inspiration comes from a love of the vernacular of subcultures, a black but not cynical sense of humor, and a fondness for unusual plot twists. . . . Ominous, shocking." –Chicago Sun-Times

"Intriguing. . . . Must reading for art lovers and those who love a good puzzle." –Baltimore Sun

"Palahniuk continues to redefine 'scary' for his readers. Recalling such classic horror tales as Shirley Jackson's The Lottery, Diary's dark side reveals itself slowly, quietly. . . . Unraveling the mystery that [Misty's] life has become is as eye-opening for us as it is for her." –Chicago Tribune

"In his inimitable style, Palahniuk has forged another chilling tale out of our deepest fears and given readers a Rosemary's Baby for the new millennium. . . . Diary is Palahniuk at his harrowing best." –BookPage

"An inventive page-turner that fuses eccentric elements of suspense with supernatural overtones to create a modern symphony of psychological horror. . . . A refreshing shot of adrenaline to the intellect." –Milwaukee Journal-Sentinel

"Palahniuk [is] a master storyteller. The dizzying twists and turns to this tale keep you smirking and shaking your head, guessing and thinking, wondering how he'll make sense out of the next kink in the plot." –Tampa Tribune

"Raw and wry. . . . Suffering for one's art has never been this funny." –Maxim

"Palahniuk at his angsty best." –Details