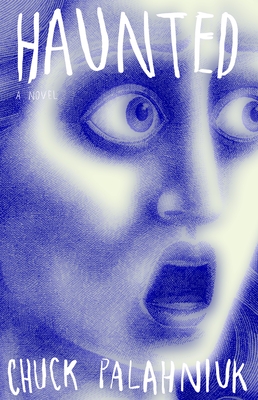 Haunted (Paperback)
A Novel
Anchor, 9781400032822, 432pp.
Publication Date: April 11, 2006
Other Editions of This Title:
Digital Audiobook (5/9/2005)
Compact Disc (5/10/2005)
Hardcover (5/1/2005)
Compact Disc (5/1/2005)
Paperback (5/1/2006)
* Individual store prices may vary.
Description
Haunted is a novel made up of twenty-three horrifying, hilarious, and stomach-churning stories. They're told by people who have answered an ad for a writer's retreat and unwittingly joined a "Survivor"-like scenario where the host withholds heat, power, and food. As the storytellers grow more desperate, their tales become more extreme, and they ruthlessly plot to make themselves the hero of the reality show that will surely be made from their plight. This is one of the most disturbing and outrageous books you'll ever read, one that could only come from the mind of Chuck Palahniuk.
About the Author
CHUCK PALAHNIUK is the author of fourteen novels—Beautiful You, Doomed, Damned, Tell-All, Pygmy, Snuff, Rant, Haunted, Diary, Lullaby, Choke, Invisible Monsters, Survivor, and Fight Club—which have sold more than five million copies altogether in the United States. He is also the author of Fugitives and Refugees, published as part of the Crown Journey Series, and the nonfiction collection Stranger Than Fiction. He lives in the Pacific Northwest. Visit him on the web at chuckpalahniuk.net.
Praise For Haunted: A Novel…
"Reading a Palahniuk novel is like getting zipped inside a boxer's heavy bag while the author goes to work on you, pounding you until there is nothing left but a big bag of bones and blood and pain." —The Miami Herald"To Palahniuk's credit, there is something here to appall almost every sensibility. The author has a singular knack for coming up with inventive new ways to shock and degrade."—The New York Post"Frequently entertaining [and] often appalling. . . . There are paragraphs here—entire pages, in fact—that are as disgusting as anything I've ever read. Truly vivid and harrowing (and often quite funny)."—Minneapolis Star Tribune"Summer reading for people who like their lit doused in bodily fluids.. . . Haunted has an anarchic sensibility that hurdles over the top."—Time Out New York "Chuck Palahniuk is one of the most intriguing writers of our time. [Haunted ] is a blend of stories that are among the most horrifying, stomach-churning and mind-blowing tales ever encountered." —Tucson Citizen"Chuck Palahniuk's rightful place is among literary giants. He combines the masculinity of Ernest Hemingway, the satirical bent of Juvenal and the attitude of Lenny Bruce." —Greensboro News & Record "To Palahniuk's credit, there is something here to appall almost every sensibility. The author has a singular knack for coming up with inventive new ways to shock and degrade." —New York Post "Funny, always on the edge of reality and bloodied by the profound horror of narcissism." —Playboy "Place this bet in your time capsule: Chuck Palahniuk's novels will be required reading in American literature classes 100 years from now." —The Fort Myers News-Press "Palahniuk is as unique and colorful as ever." —The Onion "Searing and honest. ...His nasty detail and unimaginably horrible scenarios will give some people nightmares. This creepy ?ction masterpiece could be the de?nitive novel of our time for its genre." —The Cincinnati News Record "Chuck Palahniuk appears to be going around the bend. ...A satire of reality television–an effective one–but also an homage to horror stories and a meditation on pop culture." —The Seattle Times "The most original work of ?ction this year." —The Guardian (London) "Chuck Palahniuk is up to his old tricks. ...His prose is, as always, gorgeous." —Entertainment Weekly "One part Canterbury Tales, one part Lord of the Flies, and 100 percent classic Palahniuk. ...[His] grisliest book yet." —Broward—Palm Beach New Times