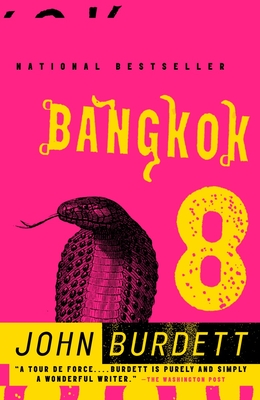 Bangkok 8 (Paperback)
A Royal Thai Detective Novel (1) (Royal Thai Detective Novels #1)
Vintage Crime/Black Lizard, 9781400032907, 336pp.
Publication Date: July 13, 2004
Other Editions of This Title:
Digital Audiobook (6/2/2003)
Digital Audiobook (3/4/2003)
Paperback, Spanish (2/1/2005)
Hardcover (6/3/2003)
* Individual store prices may vary.
Description
A thriller with attitude to spare, Bangkok 8 is a sexy, razor-edged, often darkly hilarious novel set in one of the world's most exotic cities.

Witnessed by a throng of gaping spectators, a charismatic Marine sergeant is murdered under a Bangkok bridge inside a bolted-shut Mercedes Benz. Among the witnesses are the only two cops in the city not on the take, but within moments one is murdered and his partner, Sonchai Jitpleecheep—a devout Buddhist and the son of a Thai bar girl and a long-gone Vietnam War G.I.—is hell-bent on wreaking revenge. On a vigilante mission to capture his partner's murderer, Sonchai is begrudgingly paired with a beautiful FBI agent named Jones and captures her heart in the process. In a city fueled by illicit drugs and infinite corruption, prostitution and priceless art, Sonchai's quest for vengeance takes him into a world much more sinister than he could have ever imagined.
About the Author
John Burdett is a nonpracticing lawyer who worked in Hong Kong for a British firm until he found his true vocation as a writer. Since then, he has lived in France and Spain and is now back in Hong Kong. He is the author of A Personal History of Thirst and The Last Six Million Seconds.
Praise For Bangkok 8: A Royal Thai Detective Novel (1) (Royal Thai Detective Novels #1)…
"A tour de force. . . . Burdett is purely and simply a wonderful writer." —The Washington Post

"A stiletto-sharp mystery/thriller . . . brilliantly rendered." —The Seattle Times-Post Intelligencer

"Like Thai cuisine, Burdett's comic thriller blends spicy, sour, salty and sweet—and makes for a delicious wake-up for jaded palates." —People

"Vividly written and even more vividly imagined. . . . This novel is as wild as the city in which it takes place. . . . Read it to blow your mind." —Milwaukee Journal Sentinel

"A thriller as exotic as it is enthralling, and as provocative as it is obscene." –Harper's

"One of the year's most seductive thrillers. . . . Think of Bangkok 8 as a destination spot for any reader with a taste for the exotic and desire for a really good time." –New York Daily News

"Gruesome and memorable." –The New York Times

"Burdett knows how to dole out engagingly gory details and hard-boiled platter." –Entertainment Weekly

"A different kind of mystery, one you're not likely to have seen before. . . . Bangkok 8 makes you change your perspective. It takes you into another world and exposes you to different ways of thinking." —Rocky Mountain News

"Bangkok 8 is one of the most startling and provocative mysteries that I've read in years. The characters are marvelously unique, the setting is intoxicating and the plot unwinds in dark illusory strands, reminiscent of Gorky Park. Once I started, I didn't want to put it down." –Carl Hiaasen

"Edgy, intricate and atmospheric . . . [Burdett] uses plenty of narrative sleight-of-hand to weave together character development, comic relief and inspired plot twists while steering clear of facile exoticism." —Time Out, New York

"The wildest ride in modern crime novel exoticum. A novel so steeped in milieu that it feels as if you've blasted to mars in the grip of a demon who won't let you go. Read this book, savor the language–it's the last–and the most compelling word in thrillers." –James Ellroy

"Characters are well-developed and the tale is carefully woven and fun to read."
–Columbus Dispatch