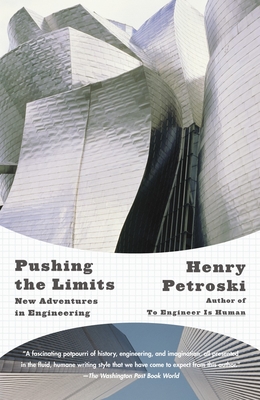 Pushing the Limits (Paperback)
New Adventures in Engineering
Vintage, 9781400032945, 304pp.
Publication Date: September 13, 2005
Other Editions of This Title:
Hardcover (9/21/2004)
* Individual store prices may vary.
Description
Here are two dozen tales in the grand adventure of engineering from the Henry Petroski, who has been called America's poet laureate of technology. Pushing the Limits celebrates some of the largest things we have created–bridges, dams, buildings--and provides a startling new vision of engineering's past, its present, and its future. Along the way it highlights our greatest successes, like London's Tower Bridge; our most ambitious projects, like China's Three Gorges Dam; our most embarrassing moments, like the wobbly Millennium Bridge in London; and our greatest failures, like the collapse of the twin towers on September 11. Throughout, Petroski provides fascinating and provocative insights into the world of technology with his trademark erudition and enthusiasm for the subject.
About the Author
Henry Petroski is the Aleksandar S. Vesic Professor of Civil Engineering and a professor of history at Duke University. The author of eleven previous books, he lives in Durham, North Carolina.
Praise For Pushing the Limits: New Adventures in Engineering…
"A fascinating potpourri of history, engineering, and imagination, all presented in the fluid, humane writing style that we have come to expect from this author." --The Washington Post Book World

"A pleasure. . . . It is a measure of Mr. Petroski's skill and sensibility that his essays about structures made of steel and stone so frequently provide a sense of that large humanity, as well." --New York Sun

"He writes clearly about complicated subjects, and provides lucid explanations and penetrating insights." —The New York Review of Books

"Henry Petroski turns an expert eye on the technology--and economics and vanity--behind [building]. The most compelling chapters concern disasters, from the collapse to the World Trade Center to the whip-snapping death of the Tacoma Narrows bridge. These essays are elegantly written and consistently thought-provoking." --New Scientist

"Henry Petroski has become the main emissary from the world of engineering to the rest of us. . . . He brings clarity and good sense to his subject, making the enigmatic world of things a little less mystifying." --Austin American-Statesman

"Petroski writes . . . with the observant eye of an engineer and the imaginative heart of a novelist." --Los Angeles Times

"An unlikely combination of mathematical brain power and a more irrational curiosity. . . . Petroski not only can put science in laymen's terms, but also can do so without killing its magic." --The Christian Science Monitor

"Petroski . . . asks us to see the extraordinary in the ordinary." --Chicago Tribune

"[There is] pleasure [in] seeing Henry Petroski's playful mind at work." --Scientific American