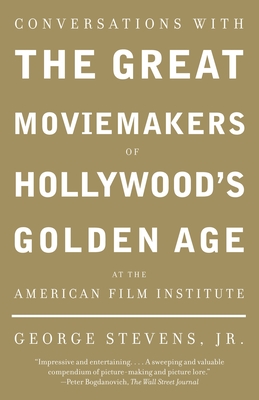 Conversations with the Great Moviemakers of Hollywood's Golden Age at the American Film Institute (Paperback)
Vintage, 9781400033140, 736pp.
Publication Date: February 13, 2007
* Individual store prices may vary.
Description
The first book to bring together these interviews of master moviemakers from the American Film Institute's renowned seminars, Conversations with the Great Moviemakers offers an unmatched history of American cinema in the words of its greatest practitioners.

Here are the incomparable directors Frank Capra, Elia Kazan, King Vidor, David Lean, Fritz Lang ("I learned only from bad films"), William Wyler, and George Stevens; renowned producers and cinematographers; celebrated screenwriters Ray Bradbury and Ernest Lehman; as well as the immortal Ingmar Bergman and Federico Fellini ("Making a movie is a mathematical operation. It's absolutely impossible to improvise"). Taken together, these conversations offer uniquely intimate access to the thinking, the wisdom, and the genius of cinema's most talented pioneers.
About the Author
George Stevens, Jr., is an award-winning writer, director, and producer, and founder of the American Film Institute. He has received eleven Emmys, two Peabody Awards, and seven Writers Guild of America Awards for his television productions, including the annual Kennedy Center Honors, The Murder of Mary Phagan, and Separate but Equal. His production The Thin Red Line was nominated for seven Academy Awards, including best picture. He worked with his father, acclaimed director George Stevens, on his productions of Shane, Giant, and The Diary of Anne Frank and in 1962 was named head of the United States Information Agency's motion picture division by Edward R. Murrow. Stevens was director of the AFI from 1967 until 1980, before returning to film and television production. He lives in Washington, D.C.
Praise For Conversations with the Great Moviemakers of Hollywood's Golden Age at the American Film Institute…
"Impressive and entertaining. . . . A sweeping and valuable compendium of picture-making and picture lore."
—Peter Bogdanovich, The Wall Street Journal

"This book, lovingly put together from hundreds of dialogues with some of the greatest directors, writers and technicians who ever worked in the medium is a precious resource for filmmakers at all stages. . . . And for people who simply love movies, it's a joy to read."
—Martin Scorsese

"Anyone remotely interested in movies will be enchanted by this astonishing collection."
—Chicago Tribune

"Brilliant. . . . This one is a keeper. . . . Anybody wanting to write, produce or direct movies needs to own and read it."
—The New York Post