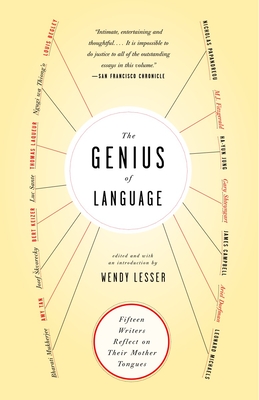 The Genius of Language: Fifteen Writers Reflect on Their Mother Tongues (Paperback)
Fifteen Writers Reflect on Their Mother Tongues
Anchor Books, 9781400033232, 241pp.
Publication Date: July 12, 2005
Description
Fifteen outstanding writers answered editor Wendy Lesser's call for original essays on the subject of language-the one they grew up with, and the English in which they write.Despite American assumptions about polite Chinese discourse, Amy Tan believes that there was nothing discreet about the Chinese language with which she grew up. Leonard Michaels spoke only Yiddish until he was five, and still found its traces in his English language writing. Belgian-born Luc Sante loved his French Tintin and his Sartre, but only in English could he find "words of one syllable" that evoke American bars and bus stops. And although Louis Begley writes novels in English and addresses family members in Polish, he still speaks French with his wife-the language of their courtship. As intimate as one's dreams, as private as a secret identity, these essays examine and reveal the writers' pride, pain, and pleasure in learning a new tongue, revisiting an old one, and reconciling the joys and frustrations of each.
About the Author
Wendy Lesser is the founding editor of The Threepenny Review and the author of four previous books. Her reviews and essays appear in major newspapers and magazines across the country. She has been awarded fellowships from the National Endowment for the Humanities and the Guggenheim Foundation, and in 1997 she received the Morton Dauwen Zaub Award from the Academy of Arts and Letters. She lives in Berkeley, California, with her husband and son.
Praise For The Genius of Language: Fifteen Writers Reflect on Their Mother Tongues…
"Intimate, entertaining and thoughtful. . . . It is impossible to do do justice to all of the outstanding essays in this volume." --San Francisco Chronicle

"Charming, moving and funny reflections on childhood, family, nationality, and ethnicity as well

as language. . . . Genuinely transporting" --The New York Sun

"Eloquently explores the links between childhood and language." —Chicago Tribune

"Provides readers not just with a peak inside the heads of these dazzling writers, but a trip to each of their homelands, from Russia to Italy to Chile." --Condé Nast Traveler

"This delightful collection É vividly recounts the process that anyone who loves words goes through: the process of falling under the spell of language's seemingly infinite potential." --Publishers Weekly

"Intimate, entertaining and thoughtful É this volume provides fascinating insight into the way that grappling with language is a way people also grapple with life." --San Francisco Chronicle

"This is a collection that should heighten anyone's awareness of the potential and the limitation of the English language." --San Jose Mercury News

"Ms. Lesser's contemporary Conrads — writers who write in English though it's not their first language — have delivered charming, moving and funny reflections on childhood, family, nationality, and ethnicity as well as language." --New York Sun

"I laughed and cried over this collection of stories embracing the English language. {One of the 25 best books of 2004}." --Seattle Times and Post- Intelligencer

"A rich and surprising book brimming with love of culture and respect of language." --Tucson Citizen

"Powerful for their brevity É the richness and the range of the collection make this a valuable anthology." --Kliatt (Massachusetts)

"This collection of essays is fascinating." – Asheville (North Carolina) Citizen-Times
Advertisement