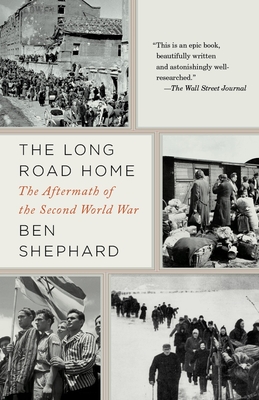 The Long Road Home: The Aftermath of the Second World War (Paperback)
The Aftermath of the Second World War
Anchor Books, 9781400033508, 489pp.
Publication Date: February 14, 2012
Description
Groundbreaking and remarkably relevant to modern emergency relief efforts, The Long Road Home tells the epic story of how the mammoth refugee problem in the wake of World War II was painstakingly solved.

While the war was still going on, the Western Allies began to plan for the humanitarian crisis they knew would come when the shooting stopped. Haunted by memories of the chaos and loss of life at war's end a generation earlier, they were determined to get it right this time. But what faced aid workers in 1945 was not what they had planned for Jewish survivors of the concentration camps and a mass of displaced persons from Eastern Europe Poles, Ukrainians, Latvians, Yugoslavs who did not want to go home. It would take five years to find them new countries in Israel, the United States, Canada and Australia. Ben Shephard has drawn on a mass of materials, including newly discovered diaries and journals, to bring out the human reality of this story.
About the Author
Ben Shephard was born in 1948, studied history at Oxford University, and is the author of the critically acclaimed A War of Nerves and After Daybreak. He was producer of the U.K. television series The World at War and The Nuclear Age, and has made numerous historical and scientific documentaries for the BBC and Channel Four. He lives in Bristol, England.
Praise For The Long Road Home: The Aftermath of the Second World War…
"[A] highly readable and moving book of postwar relief efforts. . . . Shephard raises an important point about the writing of history, which so often dwells on spectacular evil at the expense of pedestrian virtue. . . . With this book, [he] has made a significant contribution to redressing the balance." —The New York Times Book Review

"This is an epic book, beautifully written and astonishingly well-researched." —The Wall Street Journal
"Thoughtful and sobering." —New York Journal of Books
"Masterful...With its thorough and compassionate depiction of the DP era as a whole, The Long Road Home establishes beyond question the period's pivotal importance. . . . [It] should be required reading for anyone who seeks to obtain insight into the capacity of ordinary individuals to confront and, for the most part, overcome the consequences of persecution and dire devastation." —The Washington Post 
"A welcome and much-needed analysis of the refugee crisis in post-war Europe." —The Christian Science Monitor

"Shephard manages to integrate the experiences of major military and political figures with that of ordinary residents of the camps, deftly weaving quotations from his sources into his narrative. . . . A highly readable, solid study." —Richard Breitman, Washington Independent Book Review
"A splendid account of the refugee crisis, moving seamlessly from compelling personal stories to the larger historical and political context, The Long Road Home is remarkably—and refreshingly—candid." —Tulsa World 
Advertisement