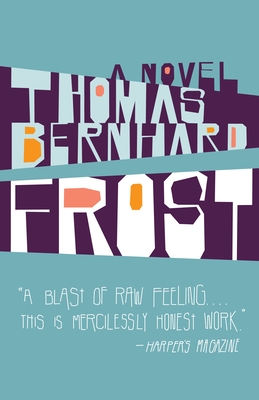 Frost (Paperback)
Vintage Books USA, 9781400033515, 341pp.
Publication Date: January 8, 2008
Description
Thomas Bernhard combined a searing wit and an unwavering gaze into the human condition. His debut novel, Frost, marked the beginning of one of the century's most provocative literary careers. Visceral, raw, singular, and unforgettable, Frost is the story of a friendship between a young man beginning his medical career and a painter in his final days. The youth has accepted an unusual assignment, to travel to a miserable mining town in the middle of nowhere in order to clinically--and secretly--observe and report on his mentor's reclusive brother, the painter Strauch. Carefully disguising himself as a law student with a love of Henry James, he befriends the aging artist and attempts to carry out his mission, only to find himself caught up in his subject's apparent madness.
About the Author
Thomas Bernhard was born in Holland in 1931 and grew up in Austria. His interest in music and theater led him to study at the Akademie Mozarteum in Salzburg. He published nine novels, an autobiography, one volume of poetry, four collections of short stories, and six volumes of plays. He died in Austria in 1989.
Praise For Frost…
"A blast of raw feeling. . . . This is mercilessly honest work." —Harper's Magazine"One of the century's most gifted writers." —Philadelphia Inquirer"Bernhard is a remarkable literary performer: a man who goes to extremes in ways that vivify our sense of human possibilities." —The Wall Street Journal
Advertisement