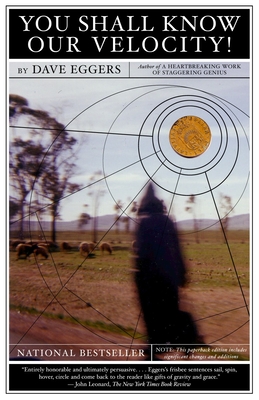 You Shall Know Our Velocity (Paperback)
Vintage Books USA, 9781400033546, 416pp.
Publication Date: July 1, 2003
Description
In his first novel, Dave Eggers has written a moving and hilarious tale of two friends who fly around the world trying to give away a lot of money and free themselves from a profound loss. It reminds us once again what an important, necessary talent Dave Eggers is.
About the Author
Dave Eggers lives in San Francisco, California.
Praise For You Shall Know Our Velocity…
"Headlong, heartsick and footsore.... Frisbee sentences that sail, spin, hover, circle and come back to the reader like gifts of gravity and grace.... Nobody writes better than Dave Eggers about young men who aspire to be, at the same time, authentic and sincere." —The New York Times Book Review

"You Shall Know Our Velocity! is the work of a wildly talented writer.... Like Kerouac's book, Eggers's could inspire a generation as much as it documents it." —LA Weekly

"There's an echolet of James Joyce there and something of Saul Bellow's Chinatown bounce, but we're carried into the narrative by a fluidity of line that is Eggers's own." —Entertainment Weekly

"Eggers is a wonderful writer, bold and inventive, with the technique of a magic realist." —Salon

"An entertaining and profoundly original tale." —San Francisco Chronicle

"Eggers 's writing really takes off -- his forte is the messy, funny tirade, stuffed with convincing pain and wry observations." —Newsday

"Often rousing ... achieves a kind of anguished, profane poetry." —Newsweek

"The bottom line that matters is this: Eggers has written a terrific novel, an entertaining and imaginative tale." —The Boston Globe

"There are some wonderful set-pieces here, and memorable phrases tossed on the ground like unwanted pennies from the guy who runs the mint." —The Washington Post Book World

"Powerful.... Eggers's strengths as a writer are real: his funny pitch-perfect dialog; the way his prose delicately captures the bumblebee blundering of Will's thoughts; ... and the stream-water clarity of his descriptions.... There is genius here.... Who is doing more, single-handedly and single-mindedly, for American writing?" —Time
Advertisement