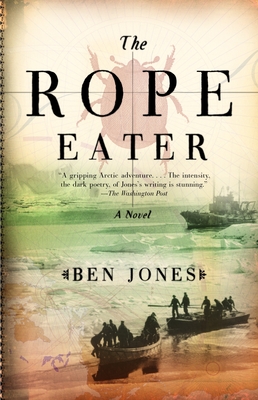 The Rope Eater (Paperback)
Anchor Books, 9781400033683, 294pp.
Publication Date: February 8, 2005
* Individual store prices may vary.
or
Not Currently Available for Direct Purchase
Description
When Brendan Kane accepts a stranger's offer of work--two years on a ship departing the following morning--the nature of the journey isn't divulged. It matters not, though, for Kane is directionless himself, having just witnessed the Civil War's horrors only to return North with nothing but the clothes on his back and as many dead soldiers' letters as he could carry in his pockets.
Aboard the mysterious Narthex, Kane meets a ramshackle crew that includes an eccentric doctor and a three-handed Muslim full of horrifying lore. Kane learns only that they're sailing for the Artic in search of gold or maybe whales. But when it turns out the Narthex's destination is a temperate paradise hidden amidst glaciers–a mythical place–Kane and his cohorts must struggle to survive not only the bleak Artic conditions, but the loosening grip on sanity of an egomaniacal captain and the data-obsessed doctor. With each second that passes, it seems increasingly unlikely any of them will get out alive.
About the Author
Ben Jones majored in English at Yale University and was awarded a grant from the National Endowment for the Humanities. He was an editor for the Adventure Library, where he edited classic tales of exploration. Jones lives with his family outside of Boston.
Praise For The Rope Eater…
"A gripping Arctic adventure. . . . The intensity, the dark poetry, of Jones's writing is stunning." –The Washington Post

"A thrilling story. . . . It is the fine detail of this navigational and spiritual trek, the vicissitudes, confrontations and relationships along the way, that make The Rope Eater a fascinating journey." –The Miami Herald

"Jones describes battlefields as vividly as he does Arctic storms." –The Boston Globe

"A heady mix of Melville's Moby-Dick and Pynchon's The Crying of Lot 49, The Rope Eater melds breathtaking lyricism with gripping realism, producing a page-turning adventure that navigates that heart of darkness hidden within men's souls." –The Baltimore Sun

"What sets this novel apart from its many adventuring cousins is the stark insight with which debut author Ben Jones charts the emotional journey of his narrator. . . . A fantastic tale. . . . Each detail is expertly selected with an eye to completing a stunning whole. Under this guise of an adventure story, Jones leads his readers on an exploration of the dark corners of men's souls." –The Denver Post

"With the skill of an old master and the gusto of a newcomer to the trade, in The Rope Eater [Jones] conjures up the feel and spirit of a mid-19th century voyage of exploration. . . . Riveting." –San Francisco Chronicle

"Jones delivers an out-of-this world novel." –The Boston Herald

"A ripping-good adventure yarn marked by heroism and sacrifice." –Time Out New York

"[Jones] has talent to burn." –Outside

"With The Rope Eater, Ben Jones has produced not simply a novel but an entire world both fabulous and mythic, a world rendered in prose both stark and lovely as the landscape and characters within. Although set in the not-so-distant past, this account of the dreams and harsh realities of humanity serves as a clearly distinct fable for our times. I cannot recommend The Rope Eater more strongly–Ben Jones enters the ranks as a storyteller of first note." –Jeffrey Lent, author of In the Fall

Advertisement