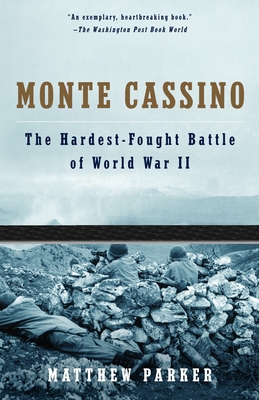 Monte Cassino (Paperback)
The Hardest Fought Battle of World War II
Anchor, 9781400033751, 448pp.
Publication Date: May 10, 2005
* Individual store prices may vary.
Description
Monte Cassino is the true story of one of the bitterest and bloodiest of the Allied struggles against the Nazi army. Long neglected by historians, the horrific conflict saw over 350,000 casualties, while the worst winter in Italian memory and official incompetence and backbiting only worsened the carnage and turmoil. Combining groundbreaking research in military archives with interviews with four hundred survivors from both sides, as well as soldier diaries and letters, Monte Cassino is both profoundly evocative and historically definitive. Clearly and precisely, Matthew Parker brilliantly reconstructs Europe's largest land battle–which saw the destruction of the ancient monastery of Monte Cassino–and dramatically conveys the heroism and misery of the human face of war.
About the Author
Matthew Parker is the author of The Battle of Britain. He is a writer and editor specializing in modern history, and lives in London, England.
Praise For Monte Cassino: The Hardest Fought Battle of World War II…
"[An] exemplary, heartbreaking book." –The Washington Post"Monte Cassino [was] perhaps the most interesting campaign of all. . . . [A] moving and well-researched book." --The Economist "Few people today realize that British and American soldiers fought in a battle that compares to Stalingrad for human suffering. Monte Cassino is a fitting tribute: an important and beautifully written book, told with real understanding and pathos." –Daily Telegraph "One of the true epics of infantry war in World War II.... A gripping story of incompetence, courage, cowardice and almost every other human emotion that war can excite." –Irish Independent"Deeply felt. . . . A fine book on a heartbreaking tragedy." –Irish Times"An excellent account of the hardest fighting carried out by the Western allies." –The Independent on Sunday"Good accounts have been written of the battle before, but none has managed to convey the sheer awfulness of fighting with quite the same success. . . . Parker has produced a deeply moving, richly detailed, and fast-paced account of the most infamous British battle of the Second World War." –Sunday Telegraph"A careful reconstruction of the Allied campaign. . . . An accomplished study." –Kirkus Reviews"Parker captures the heroism, horror, and sheer brutality of a battle that rivals Stalingrad for savagery. . . . An outstanding chronicle illustrating both valor and futility." –Booklist "Parker captures the horrific nature of the combat. . . . An oustanding example of military history, Parkers' study is of the same caliber as John Ellis's masterpiece, Cassion: The Hollow Victory, and should be in every World War II collection." –Library Journal