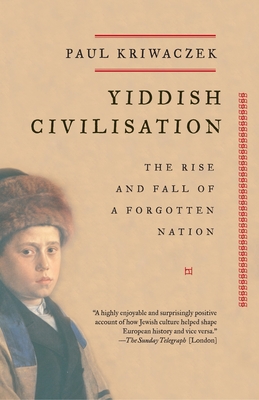 Yiddish Civilisation: The Rise and Fall of a Forgotten Nation (Paperback)
The Rise and Fall of a Forgotten Nation
Vintage Books USA, 9781400033775, 357pp.
Publication Date: October 31, 2006
Description
Paul Kriwaczek begins this illuminating and immensely pleasurable chronicle of Yiddish civilization during the Roman empire, when Jewish culture first spread to Europe. We see the burgeoning exile population disperse, as its notable diplomats, artists and thinkers make their mark in far-flung cities and found a self-governing Yiddish world. By its late-medieval heyday, this economically successful, intellectually adventurous, and self-aware society stretched from the Baltic to the Black Sea. Kriwaczek traces, too, the slow decline of Yiddish culture in Europe and Russia, and highlights fresh offshoots in the New World.Combining family anecdote, travelogue, original research, and a keen understanding of Yiddish art and literature, Kriwaczek gives us an exceptional portrait of a culture which, though nearly extinguished, has an influential radiance still.
About the Author
Paul Kriwaczek was born in Vienna in 1937 and, with his parents, narrowly escaped the Nazis in 1939, fleeing first to Switzerland and then to England. He grew up in London and graduated from London Hospital Medical College. After several years spent working and traveling in the Middle East, Central Asia, and Africa, he joined the BBC, where he spent the next quarter of a century as a program producer and filmmaker. Since leaving television in the 1990s, he has devoted himself to writing full-time, catching up on the unfinished business of a life spent exploring places, times, and ideas. He is married and lives in London.
Praise For Yiddish Civilisation: The Rise and Fall of a Forgotten Nation…
"A highly enjoyable and surprisingly positive account of how Jewish culture helped shape European history and vice versa." –The Sunday Telegraph

"An outstanding survey. . . . Kriwaczek tracks the origins, flowering, and destruction of this unique, vibrant, and tenacious culture with a fine mixture of pride, regret, and eloquence." –Booklist

"Evocative and precise. . . . An enjoyable narrative that captures the intricacies of a very complicated history."–Publishers Weekly

"Informative and very entertaining . . . conjures up and re-creates baroque images and marvelous set pieces of feverish activity, long lost towns and shtetls [as well as] wonderful pictures of lost communities of Jews."–The Irish Times
Advertisement