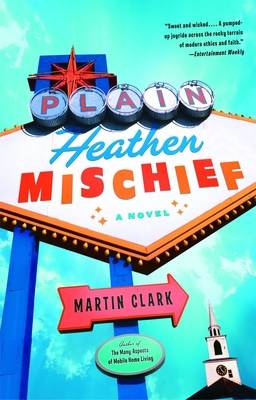 Plain Heathen Mischief (Vintage Contemporaries)
Paperback

* Individual store prices may vary.
Other Editions of This Title:
Digital Audiobook (5/7/2015)
Description
Moments after finishing a six-month sentence in the Roanoke jail for a crime he might not have committed, Baptist minister Joel King is served some unwelcome papers. His wife wants a divorce, and the teenage vixen everyone believes he seduced is suing him for five million dollars.
Holding on to his faith with a white-knuckle grip, Joel accepts a ride out west with Edmund Brooks, a member of his former flock who has some Commandment-challenging ideas about helping Joel help himself. Plain Heathen Mischief ranges from the cross to the double cross, from Virginia to Las Vegas, from courtrooms to trout streams, as Martin Clark follows his Job-like hero through dubious choices and high-dollar insurance scams to a redemption no reader could possibly predict.
Praise For Plain Heathen Mischief (Vintage Contemporaries)…
"Sweet and wicked. . . . A pumped-up joyride across the rocky terrain of modern ethics and faith." --Entertainment Weekly

"Outlandishly believable. . . . The Gospel may hit a mainstream high with Plain Heathen Mischief. . . . Clark deftly handles all of the details of the criminal justice system, the psychology of its criminals and the difficulties of re-entering society. . . . To the end, Plain Heathen Mischief remains an unpredictably good ride." --San Francisco Chronicle

"Outstanding. . . . Delightfully deceitful characters and a perfectly imperfect zinger ending. . . . One of the season's most entertaining yarns." --Miami Herald

"Juicy characters and memorable dialogue are what make this book as pleasurable to inhale as a Krispy Kreme doughnut. . . . Clark's tracing of King's moral arc, from a flawed man of the cloth to a hardened pragmatist, is a thing of beauty. " —Newsday

"Peopled with perfectly drawn characters and eccentrics, a human panoply that shuttles between the farcical and the heartfelt, all of them breathed full of vivid life by Clark's astonishing literary skill. Clark [is] a master of dialogue and a brilliant scenepainter." --St. Louis Post-Dispatch

"A top-notch story from a truly original writer that defies the reader not to rip through every page with sheer delight." --David Baldacci, author of Total Control

"As taut with a twisting plot line as a classic country house whodunit, Plain Heathen Mischief is hilarious and incisive yet expansive in its examination of character and its generosity toward those who deserve it. A terrifically entertaining and thoughtful novel . . . filled with superbly sketched characters." --Memphis Commercial Appeal

"Appealing. . . . Even better than his first novel. . . . Clark [is] an author many of us will look to again, if only to see what he could possibly dream up next." --Richmond Times-Dispatch
 
"A delightfully surprising book. Its tricky plot and morally ambiguous characters recall Elmore Leonard, its deadpan humor and dead-on details evoke the Coen brothers' films, and its coupling of over-the-top behavior with unflinching moral concern recalls . . . masters such as Flannery O'Connor and Harry Crews." --St. Petersburg Times

"Martin Clark is a skillful storyteller whose style recalls Thomas McGuane's. . . . Plain Heathen Mischief is an American fable that combines the archetypal road story with one man's quest for redemption." --Pittsburgh Tribune-Review  

"Only Martin Clark could have written this swirling cocktail of church, sin, and caper, and he pulls it off with great elegance. Plain Heathen Mischief is funny and fascinating, but it is also a brave and spirited examination of faith, and of the fraud we perpetuate not just in the world, but in ourselves." --Haven Kimmel, author of A Girl Named Zippy

"[A] suspenseful, charming read that is one part John Grisham and two parts Tom Robbins." --Playboy

"Clark effectively keeps us in suspense . . . there are scams within scams [and] entertaining twists of the plot hold plenty of surprises." --The Plain Dealer

"Clark's multi-layered, finely named comic novel is both thoughtful and laugh-out-loud funny. Clark is a master of character development. Even his minor characters are carefully drawn and convincing, and the dialogue sizzles like July Fourth sparklers. . . . A wise and thoroughly enjoyable tale." --Flint Journal Review
 
"A well-imagined cast of characters and resonant settings." --Fort Worth Star-Telegram
 
"Clark takes the gritty stuff of real life and transforms it into some of the richest, funniest and most affecting fiction being written today. This book offers the best of both fictional worlds: It's an entertaining, easily readable story that leaves you with a lot to think about, once you've stopped laughing." --Winston-Salem Journal

"Laugh out loud funny. . . . I don't know if it's from being a judge and hearing case after case that Clark gets his wild plots from, but if so, I hope he sits on that bench for many years to come." --Dan Wickett, director of the Emerging Writers Network

"A well-paced, entertaining legal thriller . . . a modern-day morality play." --The Memphis Flyer

"Funny and hopeful and endearing. . . . A brilliantly realized caper novel . . . full of finely honed characters and crisp dialogue. . . . It is never short on surprises, twists and turns, all of which are well thought out and absolutely believable." --The Anniston Star

"Quirky and idiosyncratic . . . [a] laugh-out-loud, road-to-ruin saga." --Ft. Myers News-Press

"Both funny and deeply poignant, this story of a fallen minister displays Clark's keen eye for the deftly rendered detail, as well as his compassionate understanding of the tremors that dwell in the soul and the heart." --Elizabeth Strout, author of Amy and Isabelle

"Satisfying. . . . Clark bring[s] truth and fact to the surface in glittering flashes." --Greensboro News & Record

"From page one to the final phrase . . . Mischief is a roller-coaster ride of chicanery, double-crossing liars, bizarre lawsuits, duping, depositions and downright fun. The jury did not have to deliberate long on this verdict: Plain Heathen Mischief is to be enjoyed." --Roanoke Times

"A delight from start to finish . . . one of the year's most entertaining surprises." --Publisher's Weekly (starred)

"Big, boisterous and hugely enjoyable . . . with its impressive sweep and density, Clark's work triumphantly clears the second-novel hurdle. --Kirkus Reviews (starred)

"Plain Heathen Mischief is a breezy read with plenty of bite. . . . It will provide a welcome respite from modern-day cynicism. --Dallas Morning News

"Despite its narrative depth, this book zips by. Highly recommended." --Library Journal

"A wicked, humorous yarn." --Esquire
Vintage, 9781400034116, 416pp.
Publication Date: June 14, 2005
About the Author
Martin Clark, a circuit court judge, lives in Stuart, Virginia. His first novel, The Many Aspects of Mobile Home Living, was a New York Times Notable Book, a selection of the Book-of-the-Month Club, a finalist for the Stephen Crane First Fiction Award, and appeared on several bestseller lists. His Web site is www.martinclark.com.  
or
Not Currently Available for Direct Purchase