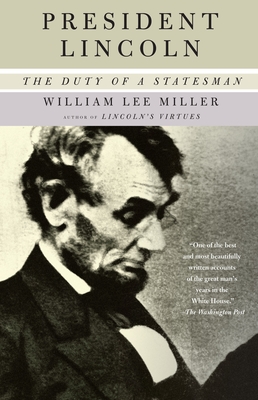 President Lincoln: The Duty of a Statesman (Paperback)
The Duty of a Statesman
Vintage, 9781400034161, 512pp.
Publication Date: January 6, 2009
Description
In his acclaimed book Lincoln's Virtues, William Lee Miller explored Abraham Lincoln's intellectual and moral development. Now he completes his "ethical biography," showing how the amiable and inexperienced backcountry politician was transformed by constitutional alchemy into an oath-bound head of state. Faced with a radical moral contradiction left by the nation's Founders, Lincoln struggled to find a balance between the universal ideals of Equality and Liberty and the monstrous injustice of human slavery.
With wit and penetrating sensitivity, Miller brings together the great themes that have become Lincoln's legacy preserving the United States of America while ending the odious institution that corrupted the nation's meaning and illuminates his remarkable presidential combination: indomitable resolve and supreme magnanimity.
About the Author
William Lee Miller has taught at Yale University, Smith College, Indiana University, and the University of Virginia, where he is currently Miller Center of Public Affairs Scholar in Ethics and Institutions. He has been an editor and writer on a political magazine, a speechwriter, and a three-term alderman. He is the author of numerous books. Arguing About Slavery won the D.B. Hardeman Prize for the best book on Congress.
Praise For President Lincoln: The Duty of a Statesman…
"One of the best and most beautifully written accounts of the great man's years in the White House." —The Washington Post "Superb. . . . Miller's portrait of Lincoln exhibits many familiar facets, but by isolating and judging him on that moral plane he shows how intelligence, humor, patience, and character can combine spectacularly." —Chicago Sun-Times "Deserves to be placed alongside the masterpieces by David Herbert Donald, Merrill Peterson and Michael Burlingame. . . . Exceptional." —The Sunday Star-Ledger "Splendid. . . . This rich and rewarding book should be enjoyed by all those interested in Lincoln or the presidency in general." —BookPage
Advertisement