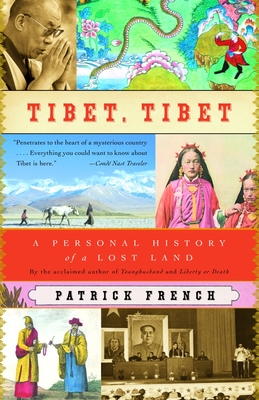 Tibet, Tibet: A Personal History of a Lost Land (Paperback)
A Personal History of a Lost Land
Vintage Departures, 9781400034178, 325pp.
Publication Date: November 1, 2004
Description
At different times in its history Tibet has been renowned for pacifism and martial prowess, enlightenment and cruelty. The Dalai Lama may be the only religious leader who can inspire the devotion of agnostics. Patrick French has been fascinated by Tibet since he was a teenager. He has read its history, agitated for its freedom, and risked arrest to travel through its remote interior. His love and knowledge inform every page of this learned, literate, and impassioned book.
Talking with nomads and Buddhist nuns, exiles and collaborators, French portrays a nation demoralized by a half-century of Chinese occupation and forced to depend on the patronage of Western dilettantes. He demolishes many of the myths accruing to Tibet including those centering around the radiant figure of the Dalai Lama. Combining the best of history, travel writing, and memoir, Tibet, Tibet is a work of extraordinary power and insight.
About the Author
Patrick French was born in England in 1966. He studied literature at the University of Edinburgh, and is the author of Younghusband: The Last Great Imperial Adventurer, which won the Somerset Maugham Award and the Royal Society of Literature W. H. Heinemann Prize, and Liberty or Death: India s Journey to Independence and Division, which won the London Sunday Times Young Writer of the Year Award. From the Hardcover edition."
Praise For Tibet, Tibet: A Personal History of a Lost Land…
"Penetrates to the heart of a mysterious country. . . . Everything you could want to know about Tibet is here." — Conde Nast Traveler

"Far and away the best book on Tibet I have read. . . . unsparing yet always compassionate. . . . A brilliant unraveling of the myth of Tibet." — Mick Brown, The Daily Telegraph (U.K.)


"Unflinching. . .French has a decided gift for inspired and heartfelt research. Strikingly scrupulous and disciplined, he wins readers' trust. . .earns our admiration. . . [and] brilliantly dissects much that is fuzzy or wrong in the indiscriminate embrace of Tibet." Pico Iyer, Los Angeles Times Book Review

"I am deeply grateful to Patrick French for going [to Tibet] and emerging with an insightful and compassionate report that tells me what I need to know about the beleagured magic kingdom."–David Herndon, Newsday
Advertisement