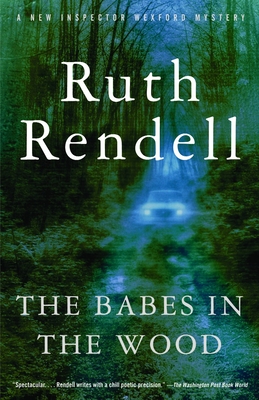 The Babes in the Wood
Paperback

* Individual store prices may vary.
Other Editions of This Title:
Audio Cassette (9/1/2003)
Mass Market Paperback (11/4/2003)
Compact Disc (10/21/2014)
MP3 CD (10/21/2014)
Compact Disc (10/21/2014)
Description
With floods threatening both the town of Kingsmarkham and his own home and no end to the rain in sight, Chief Inspector Wexford already has his hands full when he learns that two local teenagers have gone missing along with their sitter, Joanna Troy. Their hysterical mother is convinced that all three have drowned, and as the hours stretch into days Wexford suspects a case of kidnapping, perhaps connected with an unusual sect called the Church of the Good Gospel. But when the sitter's smashed-up car is found at the bottom of a local quarry–occupied by a battered corpse–the investigation takes on a very different hue.

The Babes in the Wood is Ruth Rendell at her very best, a scintillating, precise and troubling story of seduction and religious fanaticism–and murder.
Praise For The Babes in the Wood…
"Spectacular. . . . Rendell writes with a chill poetic precision." --The Washington Post Book World

"Hard to put down. . . . Ruth Rendell is a master of the genre." --Los Angeles Times

"Subtle, mysterious. . . . Through flawless character work, Rendell transforms what could be a conventional suspense story into a close, and at times cruelly funny, psychological study of domestic disorder." —The New York Times Book Review

"Wonderful. . . . Rendell, as usual, gives us more than a mere mystery here. Her novel is a multilayered construction in which a case acts itself out amid nature's dark forces and the even darker forces that shape the psyches of the village inhabitants." —Pittsburgh Post Gazette

"When it comes to the classic mystery . . . nobody does it better than Ruth Rendell. To her mastery of the traditional form, she adds a contemporary spin that places her above most of her peers and makes her Chief Inspector Wexford novels notable as much for their insights as for their puzzles. . . . [She is] a beguiling storyteller." —San Diego Union-Tribune

"Fans will be pleased. . . . The plot . . . marches efficiently to its unguessable d?nouement while demonstrating Rendell's grasp of the psychological dynamics of seduction." --The New Yorker

"It is the merging of the personal, political, and procedural where Rendell shines. . . . [The Babes in the Wood is] a good yarn, which Rendell spins with her customary casual elegance." --The Boston Globe

"Rendell's gift for intelligent, coolheaded storytelling remains undiminished." —Entertainment Weekly

"This veteran writer does not disappoint with The Babes in the Wood. . . . Miss Rendell is a master of the psychological twist, and she throws in several before Wexford finds all the answers. . . . If you are not [already] a fan, read this and you will be." --The Washington Times

"Rendell grabs readers' attention in the first scene . . . [and] with a mix of the sinister and the mundane, she retains her hold throughout." --Boston Herald

"As usual, [Rendell] has a few genuine surprises on tap as the astute Wexford neatly sorts out myriad lies to find a clever killer."–Orlando Sentinel

"The greatest charm of Ruth Rendell's The Babes in the Wood is in her characterizations. . . . [She paints] vivid pictures at every level with sharp dialogue and observation." --San Jose Mercury News

"The Babes in the Wood is more than just another mystery, count on it. To Rendell fans, it's a respite from waiting; to everybody else, it's an introduction to a vast, dark world and hours upon hours of reading well spent." --Dayton Daily News

"A heart-wrenching tale. . . . Leaves the reader wondering whodunit until the final pages." —The Roanoke Times
Vintage Crime/Black Lizard, 9781400034192, 336pp.
Publication Date: October 12, 2004
About the Author
Ruth Rendell has won numerous awards, including three Edgars and the Grand Master Award from Mystery Writers of America, and four Gold Daggers, one Silver Dagger, and a Cartier Diamond Dagger for outstanding contribution to the genre from Britain's prestigious Crime Writers' Association. She lives in London where she is a Life Peer in the House of Lords.
or
Not Currently Available for Direct Purchase