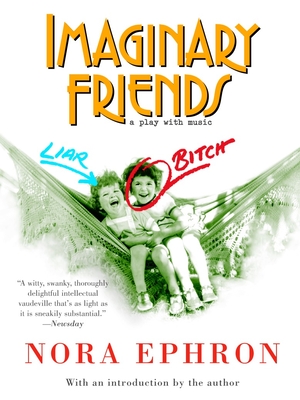 Imaginary Friends (Paperback)
Vintage Books USA, 9781400034222, 144pp.
Publication Date: March 18, 2003
Description
Although Lillian Hellman and Mary McCarthy probably only met once in their lives, their names will be linked forever in the history of American literary feuds: they were legendary enemies, especially after McCarthy famously announced to the world that every word Hellman wrote was a lie, "including 'and' and 'the.'" The public battle, and the legal squabbling, that ensued ended, unsatisfactorily for all, with Hellman's death. In Imaginary Friends, Nora Ephron brilliantly and hilariously resuscitates these two bigger-than-life women to give them a post-mortem second act, and the chance to really air their differences.
About the Author
Nora Ephron was the author of the bestselling I Feel Bad About My Neck as well as Heartburn, Crazy Salad, Wallflower at the Orgy, and Scribble Scribble. She wrote and directed the hit movie Julie & Julia and received Academy Award nominations for Best Original Screenplay for When Harry Met Sally. . ., Silkwood, and Sleepless in Seattle, which she also directed. Her other credits include the script for the stage hit Love, Loss, and What I Wore with Delia Ephron. She died in 2012.
Praise For Imaginary Friends…
"A sharp-eyed and even sharper-clawed memory-play. . . . Provides . . . guilty pleasures, keeping the repartee both snappy and snappish." --The Wall Street Journal

"A feast of wit and language . . . that grows into a hair-pulling duel even Don King could appreciate." --Los Angeles Times

"Takes the prize for audacity. . . . Two august ladies of letters as you've never seen them before. . . . [I]n American theater, everybody loves a bitch with style." --The New York Times

"A witty, swanky, thoroughly delightful intellectual vaudeville that's as light as it is sneakily substantial." --Newsday

"Nora Ephron knows how to refine the passions of Hellman and McCarthy into glittering comedy. . . . [She] also gives her dueling heroines some swipes worthy of Clare Boothe Luce's long-form catfight, The Women." –-The New York Sun

Advertisement