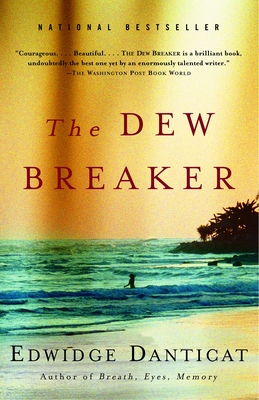 The Dew Breaker (Vintage Contemporaries) (Paperback)
Vintage, 9781400034291, 256pp.
Publication Date: March 8, 2005
Other Editions of This Title:
Digital Audiobook (2/5/2008)
Hardcover (3/9/2004)
* Individual store prices may vary.
Description
In this award-winning, bestselling work of fiction that moves between Haiti in the 1960s and New York in the present day, we meet an unusual man who is harboring a vital, dangerous secret. He is a quiet man, a good father and husband, a fixture in his Brooklyn neighborhood, a landlord and barber with a terrifying scar across his face. As the book unfolds, we enter the lives of those around him, and his secret is slowly revealed. Edwidge Danticat's brilliant exploration of the "dew breaker"-- or torturer-- is an unforgettable story of love, remorse, and hope; of personal and political rebellions; and of the compromises we make to move beyond the most intimate brushes with history. It firmly establishes her as one of America's most essential writers.
About the Author
Edwidge Danticat is the author of numerous books, including Claire of the Sea Light,a New York Times notable book; After the Dance; Brother, I'm Dying, a National Book Critics Circle Award winner and National Book Award finalist; Breath, Eyes, Memory, an Oprah Book Club selection; Krik? Krak!, a National Book Award finalist; The Farming of Bones, an American Book Award winner; and The Dew Breaker, a PEN/Faulkner Award finalist and winner of the inaugural Story Prize. The recipient of a MacArthur Fellowship, she has been published in The New Yorker, The New York Times, and elsewhere. She lives in Miami.
Praise For The Dew Breaker (Vintage Contemporaries)…
"Courageous. . . . Beautiful. . . . The Dew Breaker is brilliant book, undoubtedly the best one yet by an enormously talented writer." --The Washington Post Book World

"Ms. Danticat's most persuasive, organic performance yet. . . . Each tale in The Dew Breaker could stand on its own as a beautifully made story, but they come together like jigsaw-puzzle pieces to create a picture of this man's terrible history and his and his victims' afterlife." —The New York Times

"Filled with quiet intensity and elegant, thought-provoking prose. . . . An elegiac and powerful novel with a fresh presentation of evil and the healing potential of forgiveness." --People

"Luminous. . . . This is a tale of crime and punishment in the great tradition of Dostoevsky." —The Baltimore Sun

"A devastating story of love, delusion, and history." —O, The Oprah Magazine

"Danticat's gift is to combine both sympathy and clarity in a moral tangle that becomes as tight as a Haitian community." —Time

"Breathtaking . . . With terrifying wit and flowered pungency, Edwidge Danticat has managed over the past 10 years to portray the torment of the Haitian people . . . In The Dew Breaker, Danticat has written a Haitian truth: prisoners all, even the jailers." –The New York Times Book Review

"Danticat [is] surely one of contemporary fiction's most sensitive conveyors of hope's bittersweet persistence in the midst of poverty and violence." –The Miami Herald

"Thrillingly topical . . . [The Dew Breaker] shines. . . . Danticat leads her readers into the underworld. It's furnished like home." –Los Angeles Times Book Review

"Stunning . . . Beautifully written fiction [that] seamlessly blend[s] the personal and political, [and] asks questions about shame and guilt, forgiveness and redemption, and the legacy of violence . . . haunting." –USA Today

"Fascinating. . . . Danticat is a fine and serious fiction writer who has slowly grown as an artist with each book she has written." –The Chicago Tribune

"In its varied characters, its descriptive power and its tightly linked images and themes, [The Dew Breaker] is a rewarding and affecting read, rich with insights not just about Haiti but also about the human condition." –San Francisco Chronicle

"[The Dew Breaker] is, most profoundly, about love's healing powers. From its marvelous descriptions of place to the gentle opening up of characters, this is a book that engages the imagination." –Elle

"With her grace and her imperishable humanity . . . [Danticat] makes sadness beautiful." –The New York Observer

"Danticat has an emotional imagination capable of evoking empathy for both predator and prey." –Entertainment Weekly

"With characteristic lyricism and grace, Danticat probes the painful legacy of a time when sons turned against their fathers, children were orphaned, and communities were torn apart." –The Philadelphia Inquirer

"Delicate and poetic . . . Danticat [is] more than a storyteller, she's a writer. . . . Her voice is like an X-Acto knife–precise, sharp and perfect for carving out small details." –The Minneapolis Star Tribune

"Filled with quiet intensity and elegant, thought-provoking prose . . . An elegiac and powerful novel with a fresh presentation of evil and the healing potential of forgiveness." –People

"[Danticat] fuses the beauty and tragedy of her native land, a land her characters want to forget and remember all at once." –Ebony

"In these stories Edwidge Danticat continues to speak eloquently for those who in losing their sorrowful homeland have lost their voices." –The Boston Globe

"Haitian-American writer Edwidge Danticat presents simple truths…this, the novelist seems to be saying is how you understand; here is the primer for survival." –The Atlanta Journal-Constitution