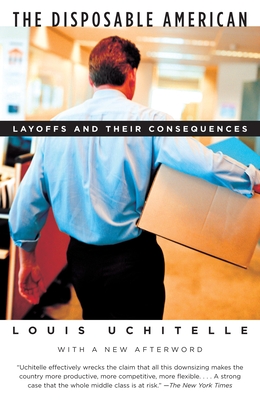 The Disposable American: Layoffs and Their Consequences (Paperback)
Layoffs and Their Consequences
Vintage Books USA, 9781400034338, 287pp.
Publication Date: April 10, 2007
Description
Layoffs have become a fact of life in today's economy; initiated in the mid 1970s, they are now widely expected, and even accepted. It doesn t have to be that way.In The Disposable American, award-winning reporter Louis Uchitelle offers an eye-opening account of layoffs in America how they started, their questionable necessity, and their devastating psychological impact on individuals at all income levels. Through portraits of both executives and workers at companies such as Stanley Works, United Airlines, and Citigroup, Uchitelle shows how layoffs are in fact counterproductive, rarely promoting efficiency or profitability in the long term. Recognizing that a global competitive economy makes tightening necessary, Uchitelle offers specific recommendations for government policies that would encourage companies to avoid layoffs and help create jobs, benefiting workers, corporations, and the nation as a whole.
About the Author
Louis Uchitelle worked as a reporter, editor, and foreign correspondent for the Associated Press until he joined The New York Times in 1980 as a business editor; he has written about economics for the Times since 1987 and was designated Senior Writer in 1994, joining a select group honored for achievement. In the early 1990s his reporting on the former Soviet Union's plunge into capitalism earned him a Pulitzer nomination, and he shared a George Polk award as lead writer on the seven-part Times series, "The Downsizing of America," in 1996. He taught feature writing at Columbia University and has been a visiting scholar at the Russell Sage Foundation.
Praise For The Disposable American: Layoffs and Their Consequences…
"Uchitelle effectively wrecks the claim that all this downsizing makes the country more productive, more competitive, more flexible. . . . A strong case that the whole middle class is at risk."
—The New York Times

"The Disposable American is an overdue wake-up call that could start making the wisdom of layoffs that much less conventional."
—San Francisco Chronicle

"Incisive. . . . An airtight case against the common wisdom that favors job cuts."
—BusinessWeek

"Uchitelle writes about the moral failings of our modern corporate structure with deep and persuasive insight. That alone makes the book a must-read." —Detroit Free Press
Advertisement